Looking for some outdoor table setting ideas to impress your guests? Look no further than these 12 surprisingly simple tips and tricks that will help you create a stunning outdoor dining experience. From DIY centerpieces to unique place settings, these ideas are sure to make your next outdoor dinner party one to remember.
[ This post probably contains affiliate links, our full disclosure policy is boring, but you can read it HERE ]
How can I make my outdoor table look nice?
One of the most common questions people ask when setting up an outdoor table is, "How can I make it look nice?" Well, the answer is quite simple: by creating a theme. Whether it's a color scheme, a specific style, or even a cultural influence, having a theme can add a cohesive and aesthetically pleasing look to your table setting.
RELATED: DIY Scandinavian Patio Ideas
RELATED: Fitted table cover, the easy DIY
1. Create a theme
Start by considering the occasion and what kind of atmosphere you want to create. Is it a casual BBQ or a fancy dinner party? Choose your theme accordingly and then select your decor and tableware. For example, if you're going for a beachy vibe, you might want to incorporate sea-inspired elements like seashells, blue and white stripes, and coral accents.
Creating a theme for your outdoor table setting is a great way to add some personality to your event. The theme could be inspired by the season, a specific cuisine, or just your personal style.
Once you have your theme in mind, getting creative with your DIY projects and decor will be a lot easier. You can mix and match different textures and patterns within your theme, add some ambient lighting with candles or string lights, and even include some fresh flowers or greenery to bring some natural elements to the table.
In short, creating a theme for your outdoor table setting not only makes it look nice but also allows you to express your personal style and creativity. So, have fun with it and let your imagination run wild!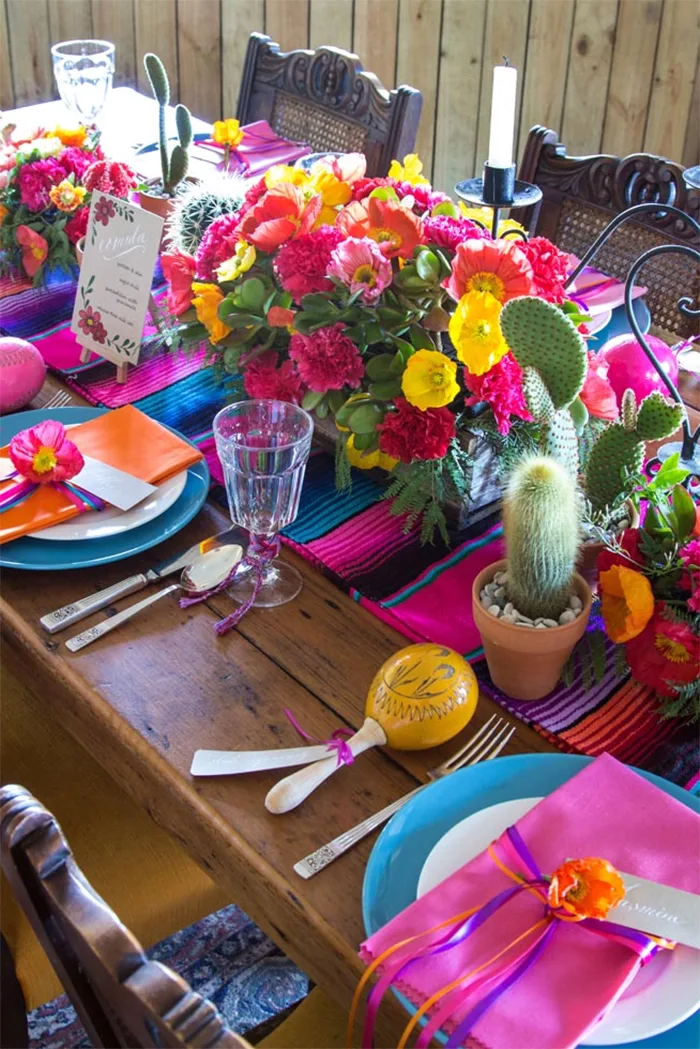 Outdoor table setting inspiration
2. Choose a color
Creating a cohesive color scheme is essential when it comes to designing an impressive outdoor table setting. Not only does it tie together all your decor and accessories, but it also adds a visually pleasing aesthetic. The color scheme can be inspired by nature, the season, or your personal preference. Remember, your color scheme does not have to be overly complicated as even the simplest of colors can make a big impact.
For example, if you have a tropical-inspired theme, you could complement it with a green and white color scheme. Or if you prefer a bold and bright look, you could incorporate vibrant hues like pink, orange, and yellow. Whatever color scheme you decide to go with, make sure it complements your theme and the overall ambiance you want to create.
3. Add DIY centerpieces
Once you have decided on your outdoor table setting's color scheme, it's time to give it a personal touch by adding DIY centerpieces. These centerpieces not only give your guests something to admire, but they can also be functional and practical.
If you have a garden-themed table setting, why not use small potted herbs as centerpieces? They not only add a natural element to your table but also provide fresh herbs for your guests to use in their meals.
If you have a nautical-themed table setting, seashells and driftwood make excellent centerpieces. You can also use mason jars filled with sand and tea light candles for a beachy vibe.
Whatever your theme, DIY centerpieces are an excellent way to add a personal touch to your outdoor table setting. They can be as simple, and they don't have to break the bank.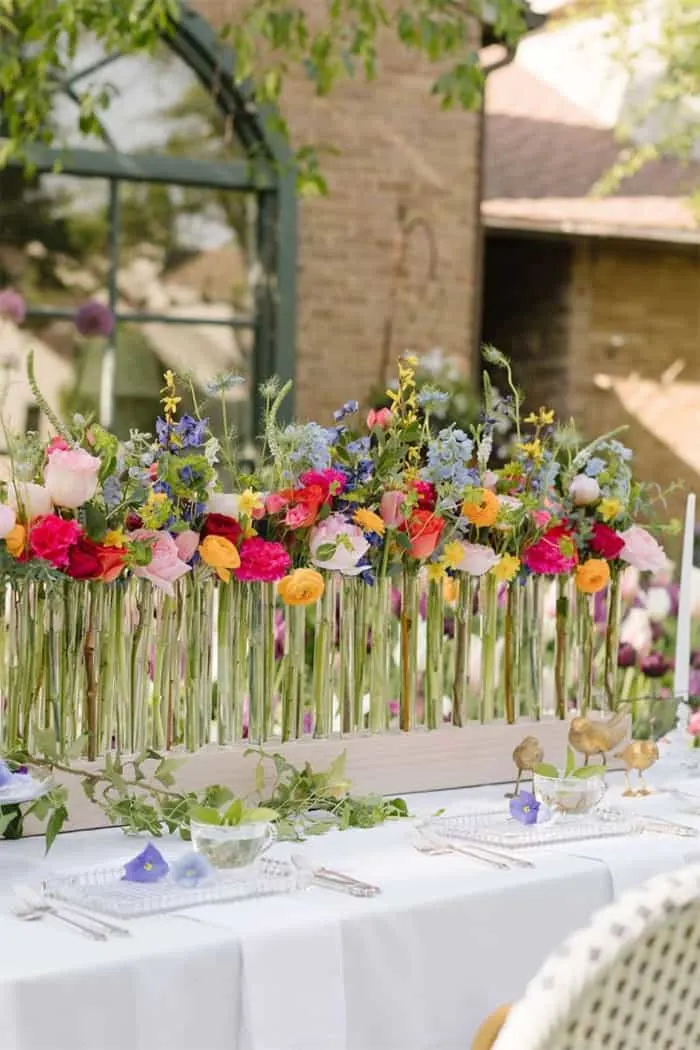 What to decorate on the outdoor table?
One of the best ways to add personality to your outdoor table setting is through DIY it´s an affordable way to add some extra decor to your tablescape and the possibilities are endless.
You can use anything from old books and vintage bottles to fruit and vegetables to create beautiful centerpieces. For a rustic or shabby chic theme, wooden crates and mason jars filled with wildflowers make for a charming addition to the table.
4. Wild flowers centerpieces
Wildflowers make for the perfect centerpiece for an outdoor table setting. Whether you're hosting a brunch or dinner party, wildflowers can add a touch of whimsy and natural beauty to your tablescape. From daisies and sunflowers to lavender and yarrow, there are a variety of beautiful wildflowers to choose from. And the best part? You can often find them growing in fields and meadows, making them a budget-friendly option.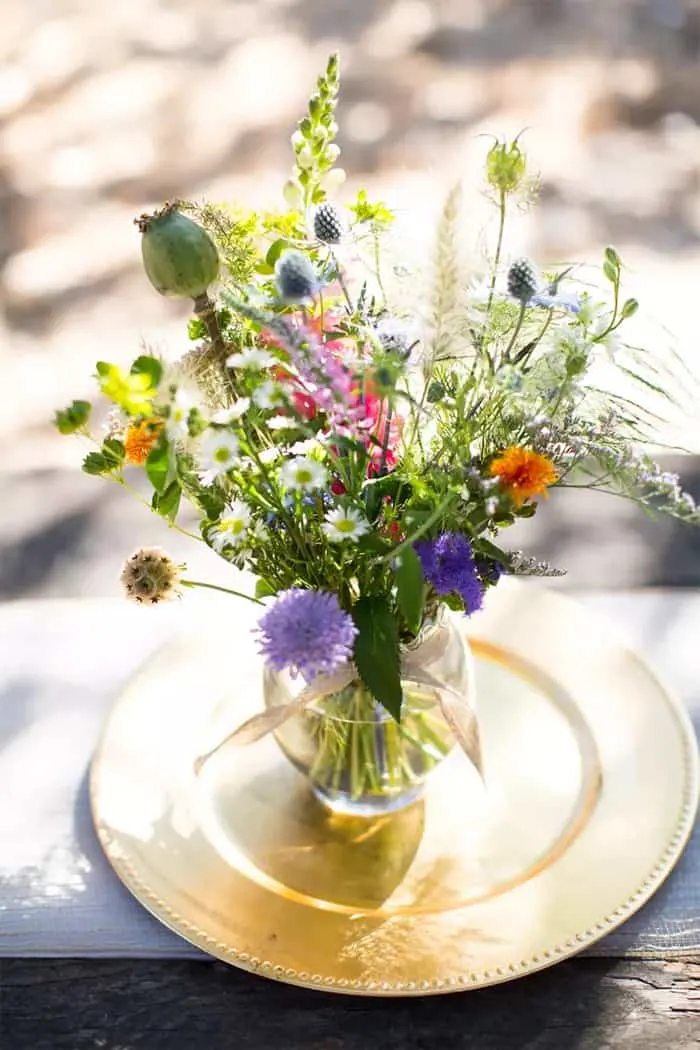 5. Decorative Fruit centerpieces
One of the simplest but most effective ways to add a modern touch to your outdoor table setting is by incorporating decorative fruit bowls. Not only do they serve a utilitarian purpose of holding fresh fruits, but they can also be a unique statement piece that will impress your guests.
There are many options to choose from, including geometric-shaped bowls made of metal, colorful bowls made of glass or ceramic, or even natural woven baskets that add a rustic flair. Consider choosing a color scheme that complements your outdoor space and other decor elements.
When selecting fruits to fill your bowls, consider a mix of colors and textures to create an eye-catching arrangement. Bright oranges and yellows pair well with deep purples and greens or you can even add vegetables like tomatoes and cucumbers.
The beauty of these fruit bowls is that they are not limited to just outdoor gatherings – they can be used year-round for any occasion. With their sleek modern design and versatility, they're a worthwhile investment that will elevate your table decor.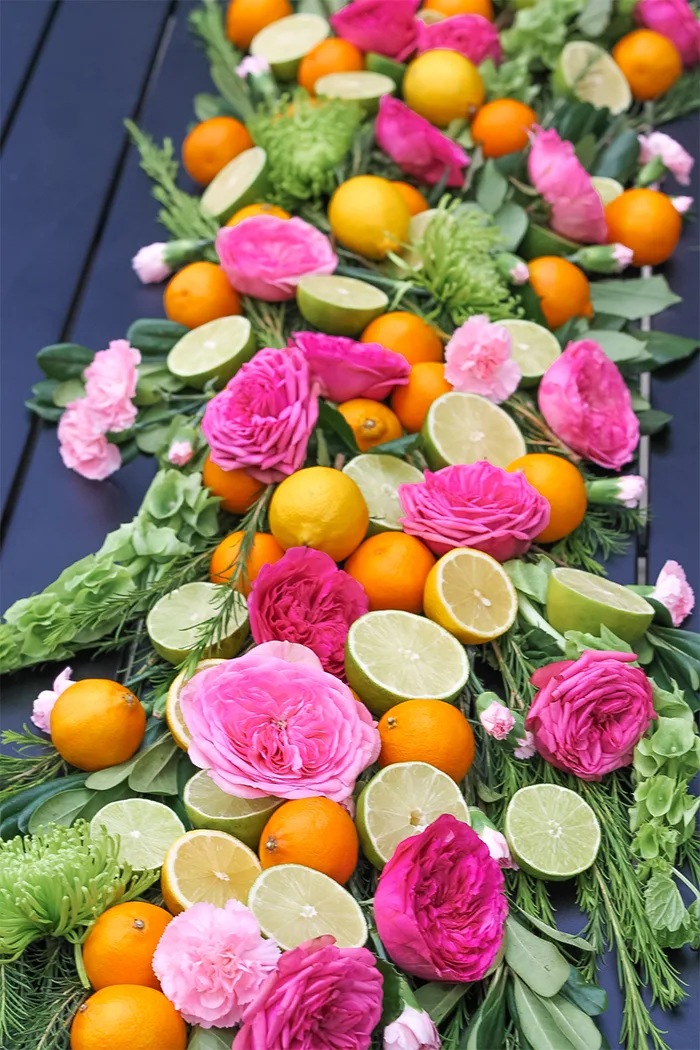 DIY Fruits and flowers tablescape
6. Succulents as evergreen Centerpiece
Succulents are a great way to bring a touch of nature to your outdoor table setting. These plants are incredibly low-maintenance and can easily be incorporated into a centerpiece. When used in a planter or woven basket, succulents can add texture and dimension to your tablescape. They also work well in smaller arrangements, such as mini succulent gardens or single plants placed in individual pots.
One of the best things about using succulents as a centerpiece is that they are evergreen. You can use them year-round and they will always add a fresh, organic feel to your table. Plus, they're a great alternative to traditional floral arrangements, which can be costly and require more upkeep.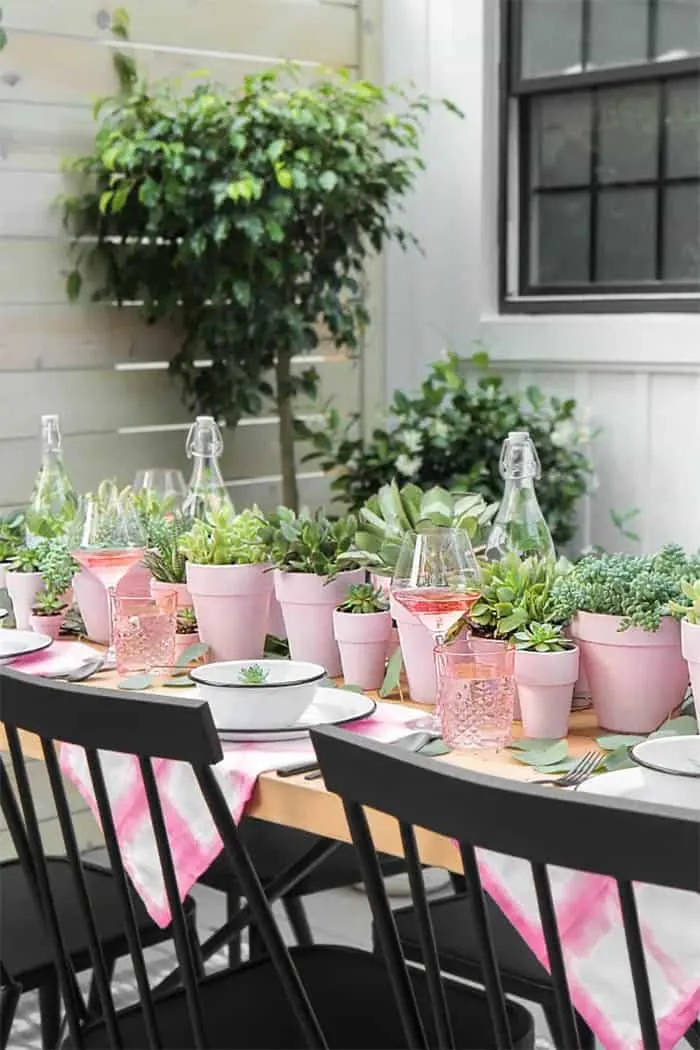 RELATED: Easy to sew Reversible Placemats
RELATED: The 15 DIY you need for the summer
7. Mix and match dishes
Mixing and matching dishes is a great way to add personality and interest to your table. By using a variety of plates, bowls, and serving dishes, you can create a visually appealing and eclectic look.
One tip to keep in mind is to choose dishes that have a similar color scheme or theme. For example, you could mix and match different shades of blue or choose dishes with a floral pattern to tie everything together.
Another fun idea is to incorporate vintage or thrifted dishes into your setting. These unique pieces can add a touch of nostalgia and charm to your table.
By mixing and matching dishes, you can create a table setting that is both stylish and functional.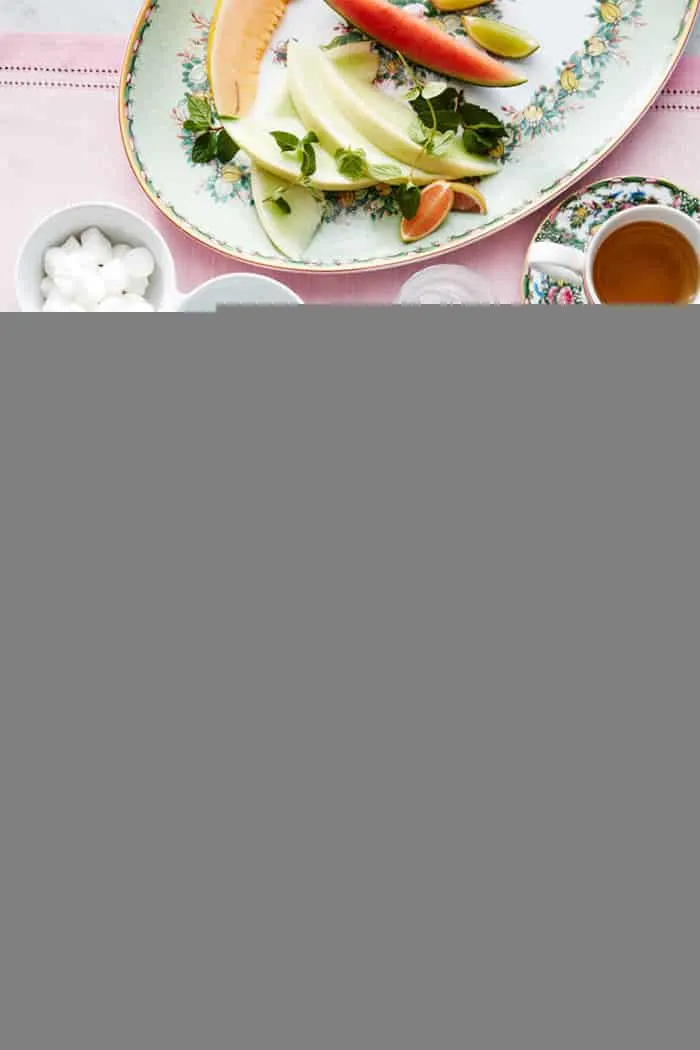 How to mix and match dinnerware
8. Use colorful linens
Incorporating colorful linens into your outdoor table setting can add a playful and lively touch. Whether you opt for a bold pop of color or a more subtle hue, using linens can instantly elevate any table arrangement. A brightly colored tablecloth can make a statement, while patterned napkins can add a playful touch. For a more minimalist look, a simple white tablecloth paired with bright, colorful placemats can do the trick.
Using linens can also help tie in other elements of your table setting, such as flowers or serving dishes. For example, a floral tablecloth can complement a bouquet of fresh wildflowers in the center of the table, while a blue and white striped table runner can tie in with a coastal theme.
In addition, linens can also serve a practical purpose by protecting your table from spills and scratches. Plus, they're easy to clean and can be switched out seasonally or for special occasions.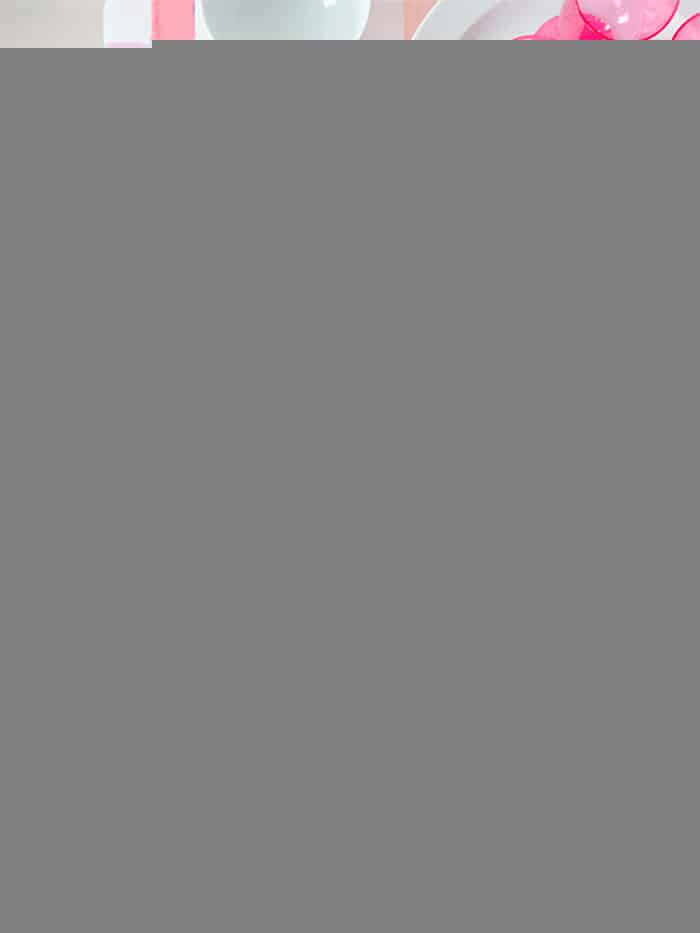 9. Play with lighting
Now that you've got your table centerpiece and linens sorted, it's time to think about lighting. The right lighting can make your outdoor dinner party feel magical and enhance the atmosphere. For a cozy and intimate feel, consider string lights or candles. These types of lighting will add a warm glow to your table and create a relaxing ambiance for your guests.
If you're looking for something a little more dramatic, try incorporating lanterns or hurricane lamps. These can be placed directly on the table or hung from trees for a stunning effect. For a unique touch, mix and match different types of lighting to create a layered look.
When it comes to outdoor lighting, it's important to keep safety in mind. Make sure any candles or open flames are placed away from flammable materials and never leave them unattended. If using electric lights, be sure to use outdoor-rated cords and keep them away from any water sources.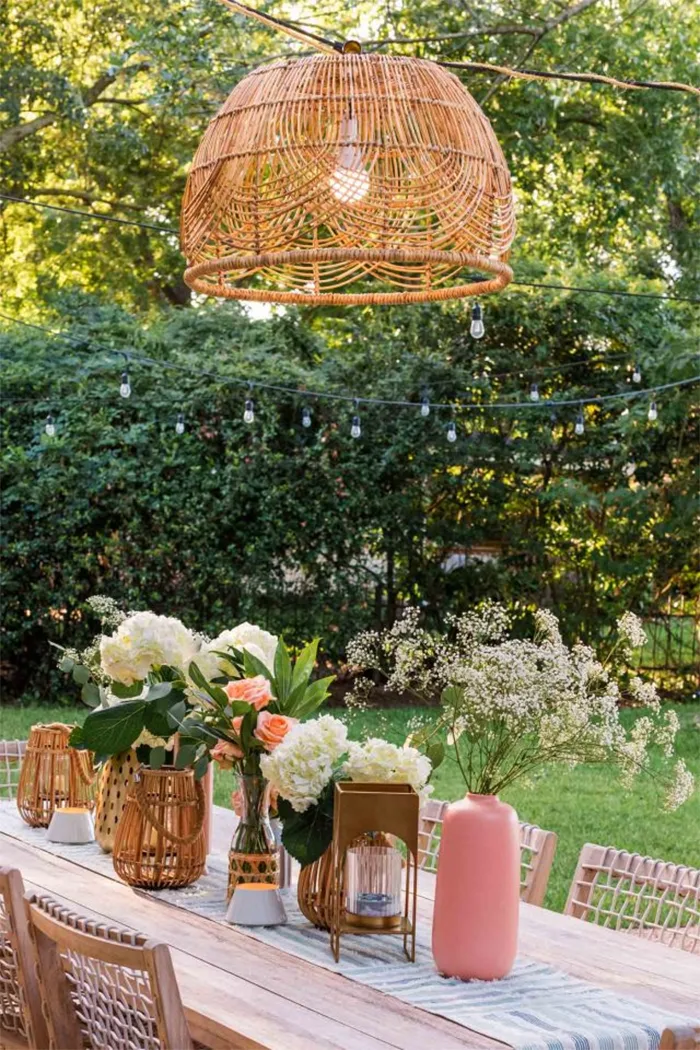 DIY battery operated outdoor light
How do you dress an outdoor table?
When it comes to outdoor dining, the table setting is just as important as the food itself. To create a beautiful and inviting table, start with a tablecloth, table runner or DIY reversible placemats that complements your outdoor space.
Next put the plates and cutlery. Make sure that the guests are evenly distributed around the table and that everyone has enough space.
Finish by adding add the decoration items we talked about earlier: centerpieces, greenery, lighting, candles, napkins or any theme related decoration to create a natural and organic feel.
Finally, don't forget about the little details that can make a big impact, like glassware, napkins and place settings.
10.Lay out your finest glassware
For a more formal event, opt for crystal glasses, while for a casual gathering, colorful or patterned glasses can add a playful touch. Don't be afraid to mix and match different sizes and styles to add texture and depth to your table.
To make sure your glasses are ready to go, give them a quick polish before placing them on the table. And remember to set out enough glasses for each guest, plus a few extras just in case.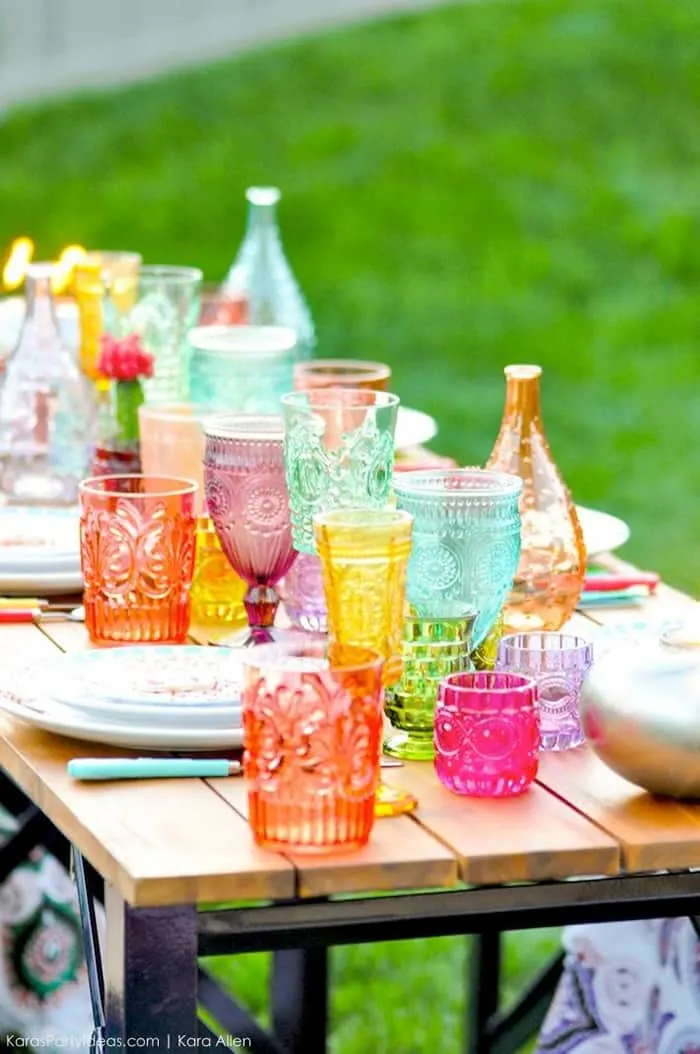 Outdoor table setting with Colored Glassware
11. Display the Napkins
Napkins are often an overlooked element when it comes to table setting, but they play a crucial role in bringing the whole look together. Instead of just placing them haphazardly on the table, take some time to fold them into unique shapes and display them in creative ways.
One easy way to add some visual interest is to roll them up and tie with a ribbon or piece of twine. You can also place them in napkin rings to add a bit of elegance to the table setting.
Consider using patterned or textured napkins to add some depth to the table. For a more rustic look, try using linen or burlap napkins. You can also mix and match different napkin colors and textures to create a unique look for each guest.
By taking the time to display your napkins creatively, you'll add an extra touch of sophistication to your outdoor table setting.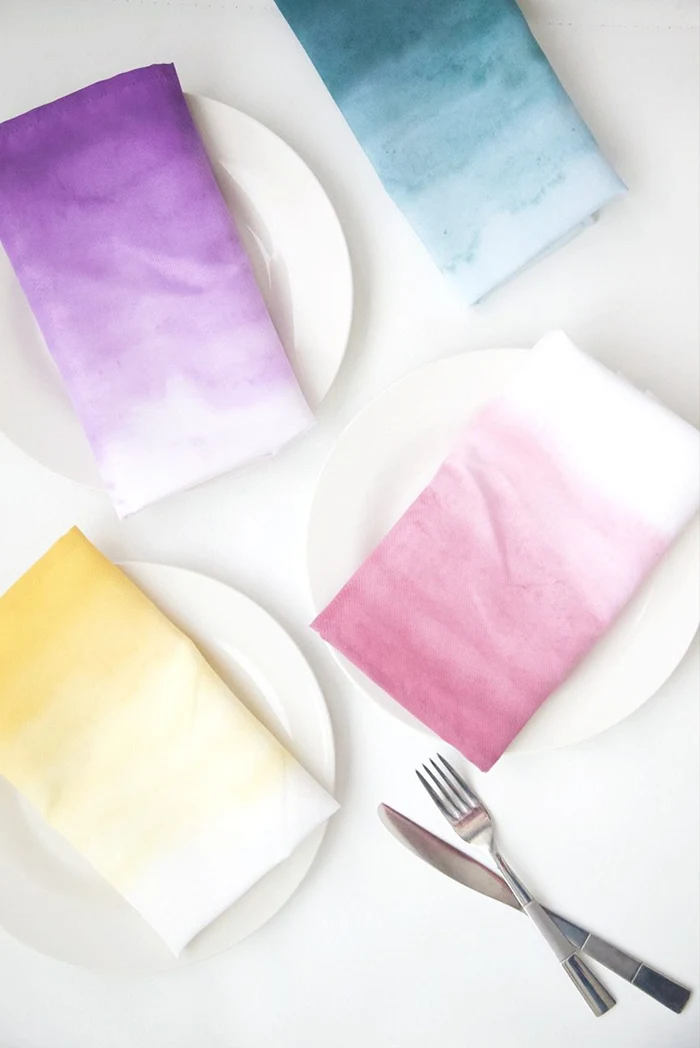 12. Create Unique Place Settings
It's time to move on to creating unique place settings. With just a few simple additions, you can make each guest feel special and add a personalized touch to the table.,
One simple way to create unique place settings is to incorporate personalized name cards. Whether handwritten or printed, name cards add a touch of elegance and show your guests that you put thought into their individual seating arrangements. This is an especially great idea if you're hosting a larger gathering where some guests may not know each other very well.
Another way to create unique place settings is to incorporate small decorative elements that reflect your personal style or the occasion you're celebrating. For example, you could add a small sprig of fresh herbs, a themed charm, or a decorative napkin ring to each setting. These small details add visual interest and help tie the entire table together.
Creating unique place settings doesn't have to be complicated or time-consuming. With just a few simple additions, you can make each guest feel special and add a personalized touch to the table.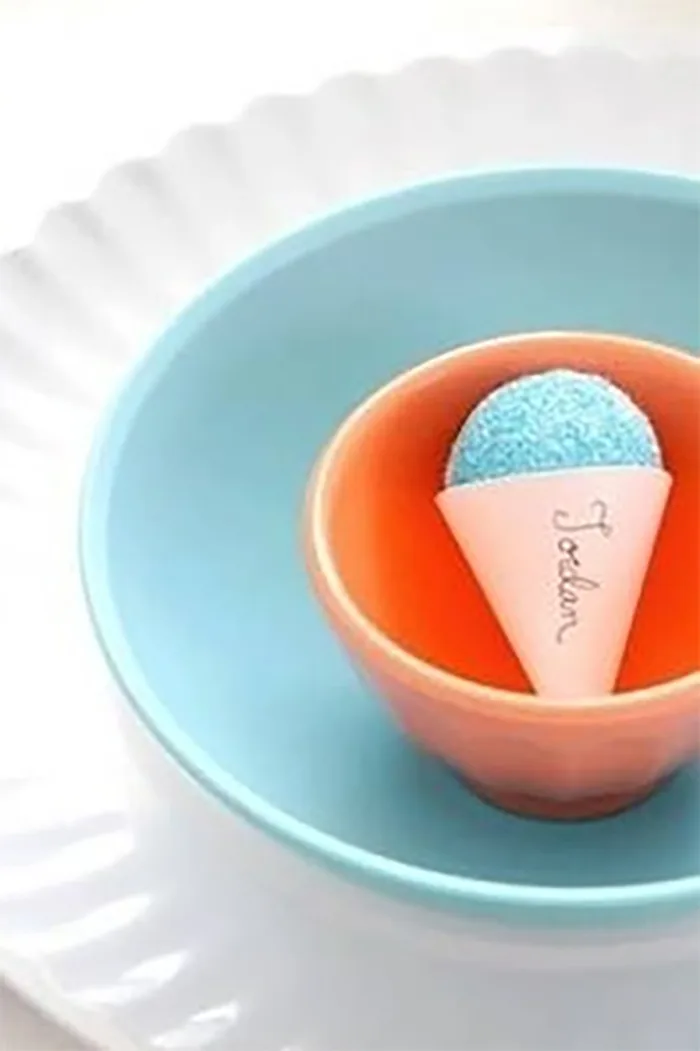 35 Cute and clever ideas for place cards
In conclusion, creating a beautiful and inviting outdoor table setting doesn't have to be a daunting task. By incorporating these 12 tips and tricks, you'll be able to elevate your outdoor dining experience and leave a lasting impression on your guests.
From DIY centerpieces to colorful linens and unexpected serving dishes, there are countless ways to infuse creativity and personal style into your table setting.
So why not take advantage of the great outdoors and plan your next dinner party today?
Want to remember it? Save these 12 Simple Outdoor Table Settings ideas on your favorite Pinterest board.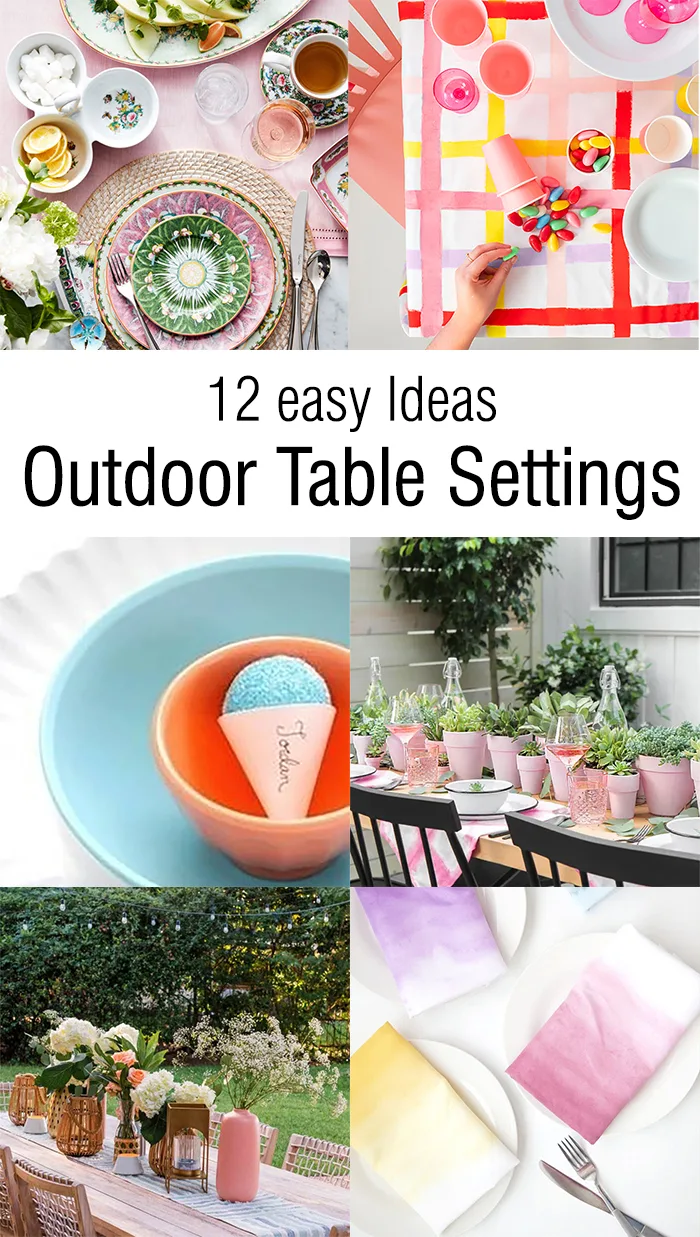 Like to see more ideas? Visit my Best DIY page!

Amaryllis



Credit : Source Post