The ongoing debate over the safety of gas stoves has generated a wave of curiosity about induction cooking. In our extensive testing, we've found that induction—which relies on magnetic properties to heat instead of a live flame or hot coil—does indeed have some significant advantages over gas or radiant-electric heat. But it isn't for every home or every cook.
If you're trying to decide whether an induction cooktop or range is right for you, here's what you need to know before you make the potentially pricey switch.
The advantages of induction
GE Profile PHP9036
With the most power settings at this price—and the ability to set a precise temperature right from the cooktop—this induction model is a great choice if you want the most control over what you cook.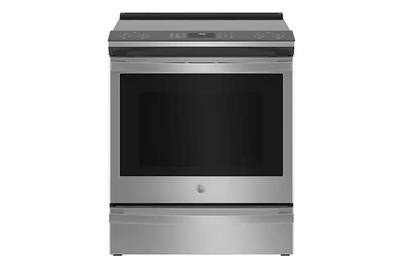 GE Profile PHS930
If cooktop performance is your priority, this slide-in induction range is fast, safe, and responsive.
An induction cooktop or range could be a great choice for many kitchens. Here's why:
It's a breeze to clean. The smooth glass-ceramic surface of an induction cooktop is one of its most rewarding features. An induction cooktop or range gets hot only directly under a pan, so splatters or drips don't cook onto its surface like they do on a radiant-electric cooktop or under the grates of a gas range. Most of the time, a quick wipe with a damp cloth is all it takes to keep your induction cooktop pristine.
It's fast and responsive. Raising and lowering the heat when you're cooking on an induction cooktop or range is noticeably quick. Lightning-fast boiling is probably the best-known perk of induction cooking: During our tests, 4 cups of water in a 1.5-quart whistling tea kettle took 4 minutes 11 seconds to come to a full boil on our portable induction cooktop pick, whereas the same task took 6 minutes 14 seconds on a gas stove. Reducing the heat is similarly speedy: Water stops boiling instantly when you lower the power.
What's equally impressive is that even the cheapest induction cooktop or range can easily maintain a very low temperature, a task that's hard to do on many mid- and lower-priced gas stoves (the flame can flicker or blow out) or on radiant-electric versions. Five of the six induction cooktops we recommend have a temperature-specific simmer or melt setting, which can keep the contents of a pot at a lazy bubble or the perfect melting point.
It's safer. Induction cooktops and ranges are inherently safer than gas or radiant-electric models because they don't involve flames or direct heat. Only your pots heat up when you cook—the surface of the stovetop remains cool. (This is particularly helpful for small kitchens or for households with young kids, older adults, or disabled cooks.) It's hard to turn on an induction element accidentally, unless you leave a pan on top of it—and if you do, the cooktop will automatically cut the power when the element reaches an abnormally high temperature for an extended period. Some Wi-Fi–enabled cooktops allow you to turn them off remotely.
Induction (or radiant-electric) cooking avoids the larger safety issues that could arise when you have a gas line, such as exposure to unhealthy levels of carbon monoxide or the potential for gas leaks, explosions, or fires (which are admittedly rare but do happen).
Induction cooktops also require the least ventilation of any cooking heat source. Unlike a gas cooktop, an induction model doesn't release methane, benzene, nitrogen dioxides, or other chemical emissions, and it doesn't create volatile organic compounds (VOCs) when you turn it on. (All cooking creates some VOCs, however.) Many city codes don't legally require ventilation for an induction (or radiant-electric) cooktop or range, but most people want it, said Jessica Petrino Ball, who runs the education program at the appliance retailer AJ Madison. A ventilation system, such as a range hood, also helps keep heat out of your kitchen and grease off your cabinets.
Note: If you have a pacemaker, induction is safe to use. Fred Kusumoto, MD, a cardiac electrophysiologist at Mayo Clinic in Jacksonville, Florida, assured us that the risk is basically zero, unless you got your pacemaker more than 30 years ago.
It's more efficient and sustainable. The EPA recently gave the entire category of induction cooktops an Energy Star Emerging Technology Award because the appliances lose much less energy in the form of heat to the surrounding air than their radiant-electric and gas counterparts. According to the EPA, induction is 85% efficient, whereas radiant electric is 75% to 80% efficient, and gas is only 32% efficient.
Induction also runs cooler and cleaner than gas, lowering the load on ventilation and on heating and cooling systems in your home. (In the peak heat of summer, the difference between cooking on an induction cooktop and cooking on a gas stove is unmistakable.) And induction and radiant-electric cooktops or ranges can run on renewable sources of electricity such as wind, geothermal energy, or solar power, whereas a gas stove will always run on gas.
The government may help you pay for one. Within the next year, the High-Efficiency Electric Home Rebate program (HEEHR), created as part of the Inflation Reduction Act, could lower the cost of an Energy Star–approved induction cooktop or range (or a radiant-electric version) by up to $840. That money is deducted when you buy or install your appliance, instead of requiring you to file for a refund.
It's high-tech. Because of the way induction technology works, induction appliances tend to have the most high-tech features. Most of our recommended induction cooktops can hold a precise temperature, for example, and some allow you to cook along automatically with a recipe on a companion app. Some induction models come with full-surface cooking, which allows you to cook with a pot or pan anywhere on the cooktop. This feature could be a game-changer for blind cooks or those with low vision, or for cooks who can't lift heavy pans or have limited reach.
It's ideal for ADA compatibility and aging in place. The majority of induction cooktops and ranges meet Americans with Disabilities Act (ADA) criteria (including positioning the controls at the front of a cooktop so that the cook can avoid reaching across hot pots). Most appliance sellers, including Home Depot and Appliances Connection, let you search their offerings by the term "ADA-compliant." Because the surface of an induction appliance doesn't heat up without a pan, it's safer for those who have issues with hearing, vision, or mobility. And many Wi-Fi–enabled induction cooktops or ranges can work with voice commands through an app downloaded to a device.
The disadvantages of induction
An induction cooktop or range might not be ideal for your household for six key reasons:
It's expensive. Induction cooktops and ranges often cost between $200 and $1,000 more than comparable gas and radiant-electric models. Many industry experts we spoke to believe that prices will dip as interest in the technology increases and more induction appliances are manufactured. Induction represents less than 5% of all electric cooking as of 2022, according to the Association of Home Appliance Manufacturers. But an AHAM representative told us that the organization's data also shows that the category has grown 3% a year for the past decade, with a noticeable uptick in 2022.
Beyond the purchase price, running an induction cooktop could cost you more per month than running a gas version if you live in a region where gas is less expensive than electricity (even though induction is more efficient). This factor could be a dealbreaker, especially in places where electricity is notably expensive, such as Hawaii or Puerto Rico.
Switching from gas to electric can be difficult (and expensive). To switch from a gas model to an electric stove or cooktop, you need to ask a certified electrician to confirm whether your home's electrical system can support another 240-volt, 50-amp electric kitchen appliance. This upgrade often requires extensive electrical work; you also need to hire a plumber to cap or close your gas line.
The good news is that many electrical utilities will help underwrite some of these costs or provide rebates (in part because they want you to buy more electricity). The electric appliance rebates created through the Inflation Reduction Act are also designed to cover some or all of this investment.
You can't cook when the power goes out. If you frequently lose electricity or have ongoing issues with the reliability of your local electrical grid, an induction (or even a radiant-electric) cooktop or stove might not be practical. This is a serious reason to avoid all-electric cooking and heat.
You need to use specific cookware. Induction requires cookware with bottoms that are strongly magnetic. You probably already own at least a few pots and pans that will work. The easiest way to check is to hold a magnet up to the bottom of your pot: If it sticks, you're in business. If you need more options, our guide to induction-compatible cookware has recommendations.
It involves a learning curve. Pans heat up and cool down much faster on an induction cooktop or range than on a gas or radiant-electric version. You might need to alter your routine (chop onions before preheating the skillet, for instance) and keep a closer eye on your cookware (some thin pans may warp). It's also important to keep your pans centered on an induction element and to confirm that the bottom of your cookware is about the same size as the element you're using, or it may not heat as evenly.
Most induction or smooth-top radiant-electric appliances have fully digital controls. If you're used to turning knobs to raise or lower the flame or heat, getting accustomed to a digital interface may be part of the learning curve. That said, many induction ranges have knobs, and a few induction cooktops do, too, including one of our recommendations.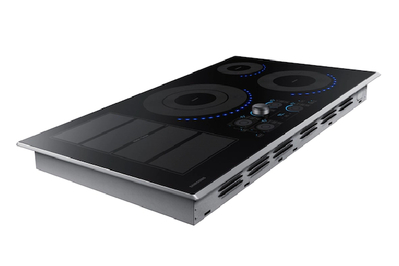 Samsung NZ36K7880US/AA
This cooktop's space-age design includes a magnetic knob that can help ease the transition to a digital interface if knobs are what you know.
There is no flame. If you love cooking with gas—the look of live fire under a cast-iron skillet, the ability to char peppers over the stovetop—induction will not offer the same experience. You can, however, enjoy a similar experience with a charcoal grill, a toaster oven, your broiler, or a handheld torch.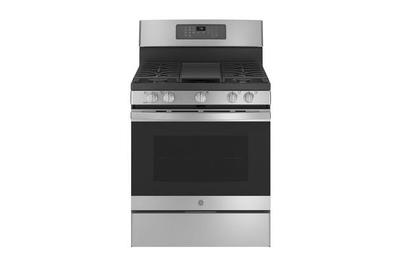 GE JGB735
If cooking over a flame is nonnegotiable, this model offers the best looks and build quality of any affordable, freestanding gas range we've found.
This article was edited by Ingrid Skjong and Courtney Schley.
Sources:
Will Teass, LEED-certified architect and co-founder of Teass Warren Architects, phone interview, October 28, 2022
Jill Notini, vice president of communications and marketing, Association of Home Appliance Manufacturers, phone interview, October 21, 2022
Jessica Petrino Ball, editorial director and head of the education program, AJ Madison, phone interview, October 11, 2022
Brian Rizzo and David Oudenhoven, corporate chef and product engineer, Wolf, phone interview, August 12, 2022
Brian Lips, energy policy expert for the NC Clean Energy Technology Center and manager of the Database of State Incentives for Renewables & Efficiency (DSIRE), phone interview, August 12, 2022
Alicia Cafferty and Aayush Vishnoi, vice president of government relations (North America) and senior vice president of business-unit cooking, BSH Home Appliances, email interview, August 11, 2022
Ari Matusiak, chief executive officer, Rewiring America, phone interview, August 9, 2022
Adrienne Anderson, food stylist and kitchen-design consultant, phone interview, July 28, 2022
Abdel Tarchid, architect and designer, Appliances Connection, phone interview, July 21, 2022
John Hynek, former senior product manager, culinary department, Miele, phone interview, March 24, 2022


Credit : Source Post