If you want to save counter space, spend less, or cook smaller portions of food at a time, you may still want to consider getting a pod-shaped air fryer. And if you're looking for a regular toaster oven without a dedicated air fryer setting, we have a guide to those too. If you need extra help deciding what to buy, we walk you through more pros and cons of each machine.
Our pick
If you're looking for a combination appliance that can air fry as well as toast bread, bake treats, or roast larger quantities of food, we recommend the Breville Smart Oven Air Fryer Pro. Of all the air fryers and toaster ovens we've tested, it's one of the only products that effectively combines the best of both machines. In comparison, most pod-shaped air fryers have large fans that can blast powerful streams of hot air, producing crispy food quickly. But their convection fans can't be turned off or adjusted, so they're not great for more delicate tasks such as baking. Convection toaster ovens, meanwhile, are larger and more versatile, but often aren't powerful enough to achieve the same level of crispiness, and certainly not as quickly.
What makes the Breville such a unique appliance is that it has the power to crisp up food more quickly than other toaster ovens in this category. It also has a large, two-rack oven capacity (big enough to fit a 6-quart Dutch oven without the lid or a 5.5-quart one with the lid), and it can toggle between two convection-fan speeds for more control. It also comes with a few additional settings: proof, reheat, cookies, slow cook, and dehydrate. However, if speed isn't a big priority, or if you don't think you'd take advantage of these added features, you'll probably be just as happy with our runner-up pick, the Cuisinart Chef's Convection Toaster Oven TOB-260N1, which costs significantly less and delivers similar results with just a little extra time.
Runner-up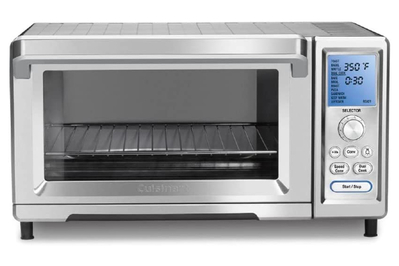 The Cuisinart Chef's Convection Toaster Oven TOB-260N1 was the top pick in our very first air fryer guide (yes, we picked a convection toaster oven over any of the pods), and we still think it does a pretty good job air frying, even if it's not advertised as an air fryer. It can deliver similar results to the Breville Smart Oven Air Fryer Pro, but its fan is a bit less powerful, so it takes slightly longer to achieve the same level of crispiness. It also doesn't have a dedicated "air fry" setting or an air frying basket, but as long as you know that speed convection equals air frying, you don't really need those things to make an air fryer recipe. For over $100 less than the Breville, this model is a great buy. It has two oven racks and two convection-fan speeds, and it can do everything from roasting a beautifully golden-brown chicken to baking even cake layers. On its speed-convection setting, it also does an excellent (albeit slower) job of crisping up frozen snacks like fish sticks or chicken fingers. The accessories are useful, too: It's the only model we've ever tested to include a ceramic pizza stone instead of a flimsy pan. While it can still fit a 6-quart Dutch oven (without the lid), the Cuisinart's capacity is slightly smaller than the Breville's. This oven also lacks some of the tiny details (like rack-position markings on the door) and settings (like proof) that make using our top pick feel extra convenient, and even a little luxe.
Budget pick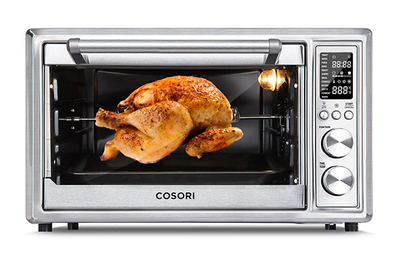 Cosori Original Air Fryer Toaster Oven
The Cosori shares many features of models that cost double the price. It doesn't cook quite as evenly as our other picks, but the results were still decent, especially considering its relatively low price.
Though still expensive compared with regular toaster ovens, the Cosori Original Air Fryer Toaster Oven was the best-performing air fryer toaster oven we tested under $225. In our tests it didn't cook as evenly as the Breville or the Cuisinart, but we found the results perfectly acceptable considering its lower price. Like our other picks, the Cosori has lots of useful settings beyond baking, toasting, and air frying, such as cookies, dehydrate, and ferment. Although its rotisserie setting didn't produce an evenly cooked chicken (no rotisserie feature we've tested has), our pan-roasted chicken turned out evenly golden brown, about as good as those we cooked in our other picks. The Cosori has two convection-fan speeds (like our other picks) and can fit a 5.5-quart Dutch oven (without the lid). It comes with only one oven rack, though its roasting pan can act as a second rack. The Cosori also includes a recipe booklet, which is nice if you're looking for some guidance when cooking with convection technology.


Credit : Source Post