Our pick
Conair Turbo ExtremeSteam Garment Steamer (GS54)
This steamer melted wrinkles without spitting water on our fabrics—rare among the models we tested. It's also comfortable to hold and has exceptional features, like an aluminum steamer plate and dual steam settings.
Like most of the midsize handheld steamers we tested, the Conair Turbo ExtremeSteam Garment Steamer (GS54) produced ample steam for the job, and it was easier to hold and more thoughtfully designed than the competition. It was also one of the only handheld steamers that didn't leave wet spots on test fabrics. The Conair Turbo steamer weighs just under 2.75 pounds with a full water tank (other midsize steamers we tested weighed between 2.5 and 5 pounds), making it among the lightest and most comfortable to maneuver. The heat-up aluminum steamer plate glides over fabric, helping to smooth wrinkles nearly as effectively as a traditional iron. It also comes with several accessories, including a silicone band attachment for pulling fabrics taut, a mesh bonnet for protecting extra-delicate items, and a bristle brush for loosening fibers to allow for better steam penetration. Plus, with two settings, the Conair Turbo steamer was one of the only models we tested that allowed us to control the heat and force of the steam: We used the "steam" setting for smoothing delicate silks, while the more powerful "turbo" setting was effective for tackling heavier cotton shirts. It has a one-year limited warranty.
Budget pick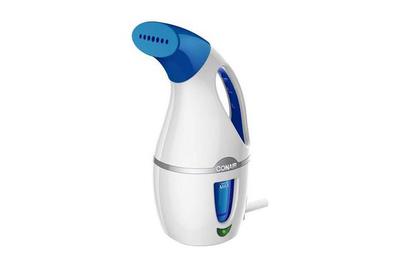 If you want a steamer on hand to occasionally freshen up a suit or a delicate top or to pack in your suitcase, you probably don't need anything fancier than the Conair CompleteSteam Hand Held Fabric Steamer (GS2). It's less than half the price of the Conair Turbo ExtremeSteam Garment Steamer, and it was more effective at smoothing wrinkles than any other steamer we tried in its price range (most of which were junky). It was also one of the only steamers of this size (often called "portable" or "travel" steamers) we tested that didn't pour water out of the spout when tipped over. It has a relatively small water tank (5 ounces; the portables we tried ranged from 5 to 8 ounces), and it did spit some water when in use, but it left fewer wet spots on clothes than the other portables we tried. If you think you'll use a steamer regularly, invest in the well-made Conair Turbo ExtremeSteam, but if you just need to smooth a wrinkle now and then—at home or while traveling—the Conair CompleteSteam fabric steamer is a solid choice. It has a one-year limited warranty, which is typical for small, inexpensive steamers.
Upgrade pick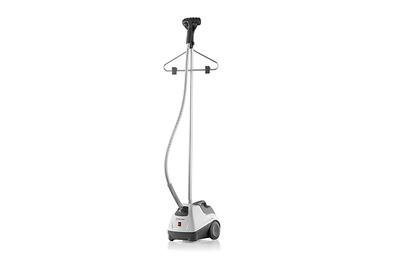 If you do a lot of steaming, or if you'd rather skip hefting a heavy handheld steamer, the Reliable Vivio 500 GC Professional Garment Steamer is a pleasure to use. It's nearly 6 feet tall, with a base about the size of a canister vacuum; despite its cumbersome size, it was our favorite steamer to use in testing. The tank holds a gallon of water (the most of any steamer we tried), it heats up quickly, and its steam head was much more comfortable for extended use than the handheld steamers that we tested. Be careful rolling the Vivio across the floor when the tank is full—it can splash water. This steamer comes with a three-year limited warranty, which was average for the ones we tested.


Credit : Source Post