If you're a cook who needs to get dinner on the table quickly, a food processor can feel like an additional pair of hands in the kitchen. It will allow you to prep a range of food—whether you're grating cheese, chopping nuts, slicing vegetables, or kneading dough—at lightning speed. We've been testing food processors since 2013, and we remain convinced that the simple, sturdy, and powerful Cuisinart Custom 14-Cup Food Processor is the best choice for most home cooks.
Our pick
Cuisinart Custom 14 Cup Food Processor
This is one of Cuisinart's most basic models, but it consistently chops, slices, and kneads better than any other food processor we've found for under $250.
Buying Options
*At the time of publishing, the price was $198.
We like the Cuisinart Custom 14-Cup Food Processor for its simplicity: This 14-cup model's pared-down design makes it easier to use and to clean than models with more settings or multiple bowls. It comes with a handful of accessories and disks that are needed to complete common kitchen tasks, but nothing extra. This food processor also has a straightforward interface, with just two buttons, and one bowl. However, its simplicity doesn't come at the cost of performance. In our tests, the Cuisinart tackled a multitude of chopping, shredding, and blending tasks exceptionally well, and it's built more solidly than other processors in its price range.
Budget pick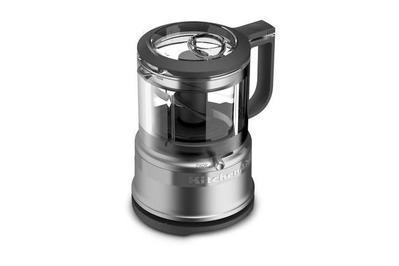 KitchenAid 3.5 Cup Food Chopper
This mini, 3.5-cup processor is too small for making bread dough or coleslaw, but it's the ideal size for chopping one onion or making small batches of mayo or vinaigrette.
We recommend the inexpensive KitchenAid 3.5 Cup Food Chopper for anyone who wants to make small batches of dips, spreads, or mirepoix. It chopped vegetables more evenly than the other mini models we tested. On top of that, its handled jar with push-button activation was the most convenient to use. And this KitchenAid is a great option for people who don't want to invest in a $250 machine. You can't knead dough or shred ingredients in it, but you can grind or chop small portions of vegetables or nuts, which is more tedious to do by hand.
Upgrade pick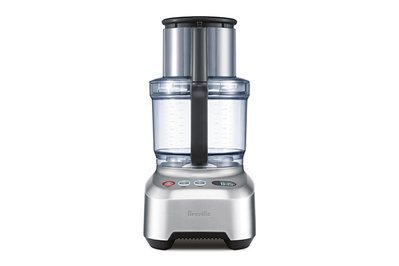 Breville Sous Chef 16 Pro
We recommend this large, 16-cup processor only if you're cooking for a crowd multiple times a week. The Sous Chef is more than twice the price of the Cuisinart Custom 14, and it's more powerful (and much bigger) than most people need.
Buying Options
*At the time of publishing, the price was $450.
The Breville Sous Chef 16 Pro is more powerful than the Cuisinart Custom 14, so it's the machine you'll want when you're cooking for large groups or if you process food several times a week. Its 1,200-watt motor and smart design save you time in use and cleaning. In fact, despite the 16-cup Sous Chef's many accessories, it was one of the easiest models to clean. That said, if you only use a food processor occasionally, the Breville's high cost probably outweighs its benefits. And given that this processor is huge—more than 18 inches tall and nearly 20 pounds—you'll need a big counter to keep it on.


Credit : Source Post