For this update, we also reviewed several specialty burners (all priced over $120) designed for precision cooking, cooking along with recipe apps, or working with larger pots and pans. We also tested one double burner and two entry-level commercial burners just for kicks. For our recommendations from those tests, see Other good induction cooktops.
Our pick
Duxtop 9600LS
In our tests, this induction burner was the easiest to use for everyday cooking, with great features and a modest footprint.
The Duxtop 9600LS has the best combination of settings, consistency, features, and usability in its category. It costs a bit more than our former main pick, the Duxtop 9100MC, but the extra money buys you a slicker control panel, as well as the ability to cook everything with more precision and less frustration. The 9600LS has 20 power settings and 20 temperature settings, the largest range of any burner we tested, and it maintains lower temperatures better than our previous pick. Of all the induction cooktops we tested, this one was also the smoothest at maintaining a target heat or temperature level, so there's less scorching or spattering and less need to hover over a simmering pot. It has an all-glass interface and a bright LCD screen that's easier to clean and to read than that of our previous pick, and it takes just a little less room on a counter. It also has several useful features, including a rare 10-hour timer, as well as lock, boil, and warm buttons, which we found were extremely useful for everyday cooking.
Budget pick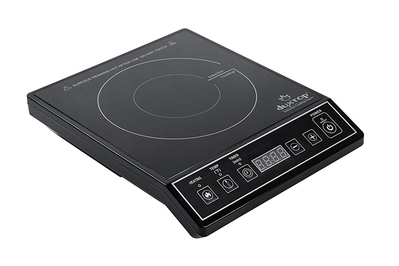 Duxtop 9100MC
Although this former top pick is not as easy to cook with as our top pick, it's a great machine for a good price, and its lack of bells and whistles may be ideal for infrequent or low-tech users.
Buying Options
*At the time of publishing, the price was $75.
Our previous top pick, the Duxtop 9100MC, has 15 power settings and 15 temperature settings. However, during testing this burner didn't maintain a set heat or temperature as smoothly as the Duxtop 9600LS, which means you have to pay more attention to cooking and change the temperature more often with the 9100MC. In addition, the old-school control panel is as plain as it gets: The panel is not glass, and it uses buttons instead of sensor touch controls. It also omits lock, warm, and boil buttons, and it's a little bigger and beeps a little louder than our top two picks, too. (Unlike the Duxtop 9100MC, the 9600LS has rounded edges, which make that model just a bit more space efficient.) None of these flaws are total dealbreakers at this model's lower price tag—and in fact, the 9100MC might be especially good for the tech-averse, the occasional user, or an Airbnb space where a constant stream of guests have to figure out how to use it.


Credit : Source Post