All the electric pressure washers (aka power washers) cleaned well in our tests, but the Ryobi stood out for its durable motor, longer hose, larger wheels, better-designed cord, and lengthier warranty coverage than the competition.
The quiet-running brushless induction motor of the Ryobi RY142300 should last for years, and the machine's heft helps make it particularly hard to tip over, even when you're forcefully tugging on the hose. The RY142300 usually costs a little more than other pressure washers, but if you plan to use it three or more times a year, it's the best value.
Runner-up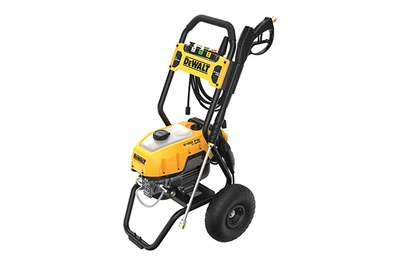 If the Ryobi RY142300 is not available, we also like the DeWalt DWPW2400 2400 PSI Electric Cold-Water Pressure Washer. Similar to the Ryobi in its body design, brushless motor, and overall power and usability, the DeWalt also has some advantages: It comes with two additional nozzles, a detergent tank that is easier to monitor and empty, and wide pneumatic tires that can navigate more easily across bumpy lawns. But its awkward cord wrap is more difficult to use, and the holder for the spray wand is ineffective.
Budget pick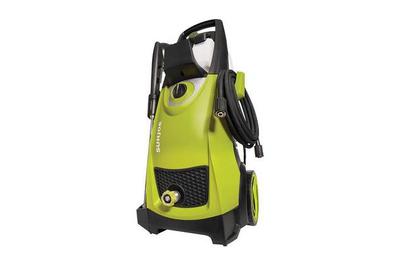 If you have a smaller budget or plan to use your pressure washer only once or twice a year, we like the Sun Joe SPX3000 Electric Pressure Washer. It costs less than the Ryobi RY142300 and cleans about the same. But like most comparably priced models, it has a shorter hose, a lower-quality motor, smaller wheels, a shorter warranty, and a design that's far easier to tip over. Compared with the other budget models we tried, it has a wider selection of spray nozzles and a tougher metal spray wand, plus convenient hose and cord storage similar to that of the RY142300.
Also great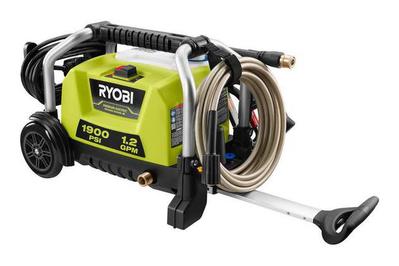 If you're short on storage and you don't mind carrying a pressure washer around, we also like the Ryobi RY1419MTVNM 1900 PSI Electric Pressure Washer. It's much smaller than the other models we tested and has less oomph, but it can still handle most jobs (they might just take a little longer). It has wheels and a retractable handle, but weighing a little over 20 pounds, it's compact enough for you to carry it as you would a duffel bag. This pressure washer has the same long hose as our main pick, too, but it lacks that model's high-end induction motor and some of the other, finer details.
Also great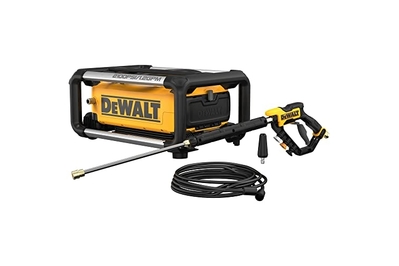 If easy storage is your top priority, we recommend the stowable, stackable DeWalt DWPW2100 2100 Max PSI Electric Jobsite Cold Water Pressure Washer. Its wand breaks down into three parts that are kept in an internal storage compartment, and the hose and cord are tucked behind the outer roll cage, one on each side. It's small enough to carry around, and its retractable luggage handle and small onboard wheels help it roll more effectively than most. The DeWalt DWPW2100 is comparable to the Ryobi RY1419MTVNM in power, but it costs about twice as much, so the efficient storage comes at a price premium.
Also great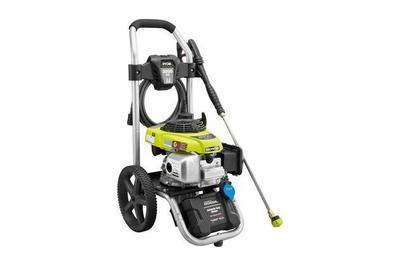 If you need more power and you don't mind maintaining an engine, we recommend the gas-powered Ryobi RY803023 3100 PSI Cold Water Gas Pressure Washer. It cleans roughly twice as quickly as our top electric pick, the Ryobi RY142300, and it's powered by a dependable Honda engine. It shares many features with our top recommendations, including oversize wheels, a long (35-foot) hose, good hose storage, ready availability, and a long warranty. The downsides: It's heavier, it's louder, it releases emissions, and it needs fuel, maintenance, and proper storage in the off-season.


Credit : Source Post