Looking for some inspiration for your next home decor project? Check out our list of the top butterfly throw pillow designs. From bold and bright to subtle and sophisticated, there's something for everyone on this list. Get ready to take your living space to the next level with these stunning butterfly pillows.
Butterflies are a symbol of beauty, and incorporating them into your living space can create a serene and graceful ambiance. In this post, I've curated a list of the top ten butterfly throw pillows, along with bonus links on how to sew your own. Get ready to transform your living room with these stunning designs.
[ This post probably contains affiliate links, our full disclosure policy is boring, but you can read it HERE ]
RELATED: Butterfly wall decor easy idea
RELATED: Cute Succulent pillow
Bold and Beautiful Butterfly Prints
If you're looking to make a statement with your decor, bold and beautiful butterfly prints are the way to go. These designs feature bright and eye-catching colors that are sure to stand out in any room. Whether you're looking to add a pop of color to a neutral space or enhance an already vibrant room, bold butterfly prints are a great choice.
One of our top picks for bold butterfly prints is a pillow featuring a large, multi-colored butterfly in the center. The vibrant hues of blue, green, and pink create a bold and energetic look that will elevate any room. Another great option is a set of pillows with a watercolor butterfly print.
When incorporating bold butterfly prints into your decor, it's important to keep the rest of the room relatively neutral. By pairing the pillows with neutral colors and simple decor, the bold print will stand out even more. Consider using these pillows on a solid-colored couch or chair, or pair them with simple accessories like a neutral rug and plain curtains.
3D Butterfly pillow case (various colors)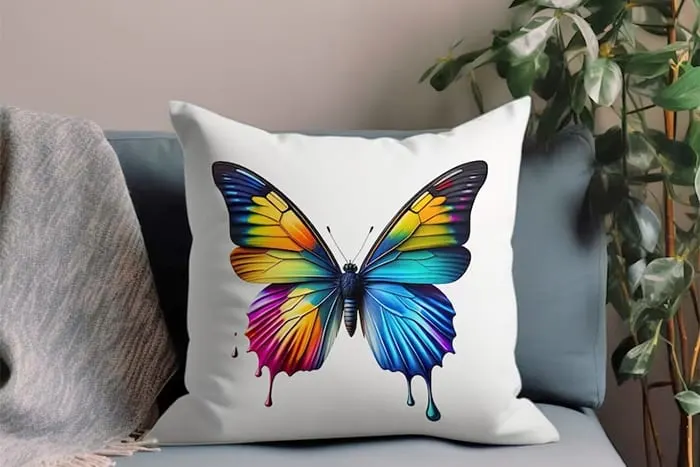 Delicate Embroidered Butterfly Pillows
For those who prefer a more delicate touch to their decor, embroidered butterfly pillows are the perfect addition to any room. These pillows feature intricate designs and textures that add depth and dimension to your space. Unlike the bold prints that demand attention, embroidered butterfly pillows add a subtle elegance to your home.
To create a cohesive look, consider pairing these pillows with other embroidered decor, such as table runners or curtains. The added texture will create a sense of warmth and coziness in your home.
But don't let the delicacy fool you – these pillows are just as impactful as their bold counterparts. Their intricate embroidery captures the detailed beauty of butterflies and their wings, making them a statement piece that will complement any design style.
For those who want to incorporate a mix of bold and delicate design, consider adding both embroidered and bold butterfly print pillows to your collection. The subtle texture of the embroidery will complement the dramatic print and create a dynamic look in your home.
Butterfly embroidered pillow case
Subtle Watercolor Butterfly Designs
For those who want a softer and more muted look, subtle watercolor butterfly designs on throw pillows can add a delicate touch to your decor. These designs have a dreamy and ethereal quality that can give your space a calming and relaxing vibe. The watercolor effect adds depth and dimension to the butterfly print, making it appear almost lifelike.
These pillows work well in spaces with a neutral color scheme, as they add a pop of color without overwhelming the space. They can also be paired with other pillow designs, such as solid-colored or geometric pillows, to create a layered and textured look.
Watercolor butterfly decorative pillow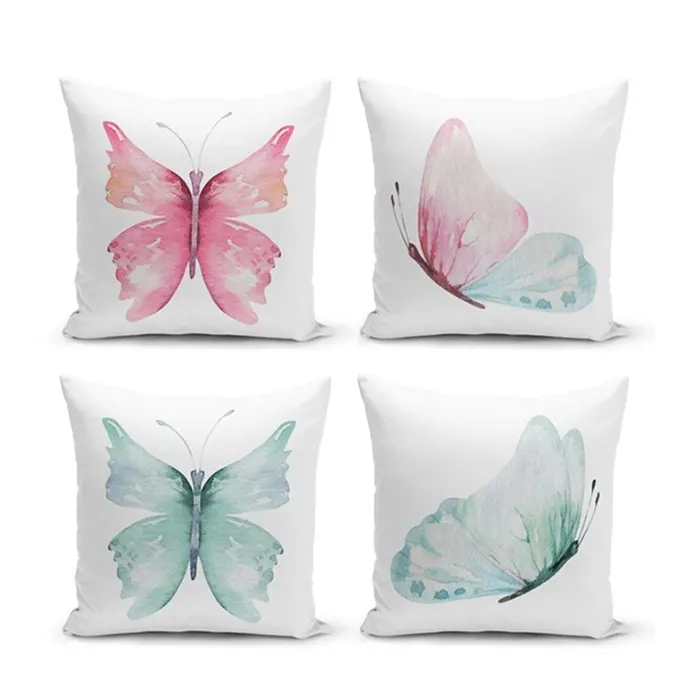 RELATED:
RELATED: 50 DIY pillows ideas
Metallic Butterfly Pillows for a Glamorous Look
If you want to take your butterfly pillow game up a notch, consider adding a touch of glamour with metallic butterfly designs. These pillows are perfect for those who want to make a bold statement and add a touch of sparkle to their space. By mixing soft watercolor butterfly pillows with shiny metallic butterfly designs, you can create a dynamic and eye-catching look that will elevate any room.
However, if you prefer a more modern and minimalistic approach, then you might want to consider pairing your butterfly pillows with some geometric ones. These minimalist designs will add a touch of elegance and sophistication to your space, without overwhelming it.
Black and gold Butterfly pillow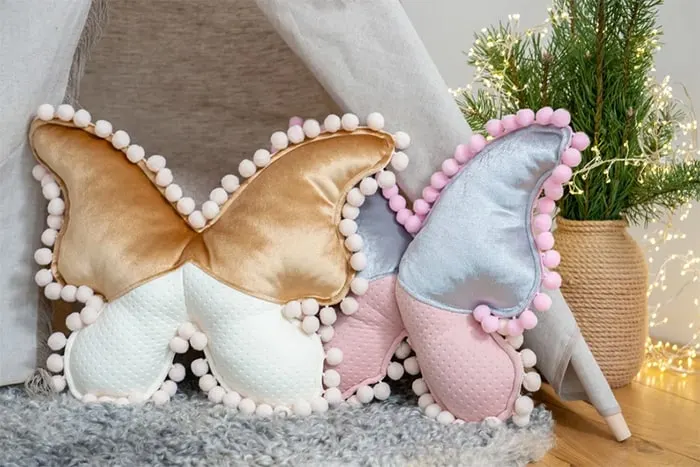 Minimalist Butterfly Designs for a Modern Touch
For those who prefer a more modern and understated aesthetic, minimalist butterfly designs offer a chic touch. These designs typically feature simple, clean lines and a pared-down color palette. You might opt for a pillow with a single butterfly in a neutral hue, or choose a pattern that incorporates multiple butterflies in shades of grey, black, and white. Whatever your preference, these designs exude elegance and sophistication while still showcasing your love of nature.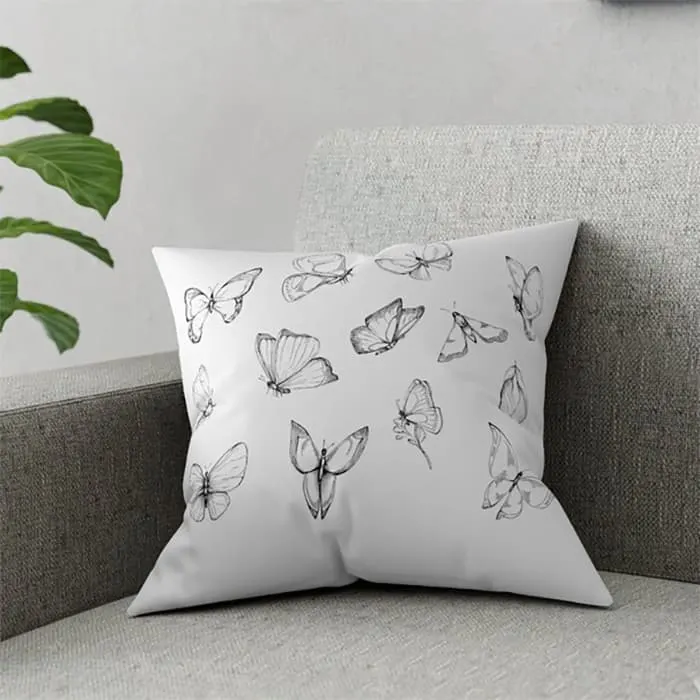 How to sew a Butterfly Pillow
If you're interested in creating your own butterfly pillow, why not try sewing one yourself? By using a pattern and some basic sewing skills, you can customize your pillow to suit your tastes and preferences. Whether you choose a traditional or modern design, your handmade butterfly pillow is sure to be a conversation starter and a treasured addition to your home decor.
For crafty and creative individuals, sewing their own throw pillows is a fun and fulfilling project. A butterfly pillow can be a great addition to any living room, bedroom, or outdoor patio.
First, choose a butterfly pattern that suits your style. You can find patterns online or in craft stores. Once you have your pattern, select a fabric that complement your design. Cotton or linen fabrics are great choices for a pillow.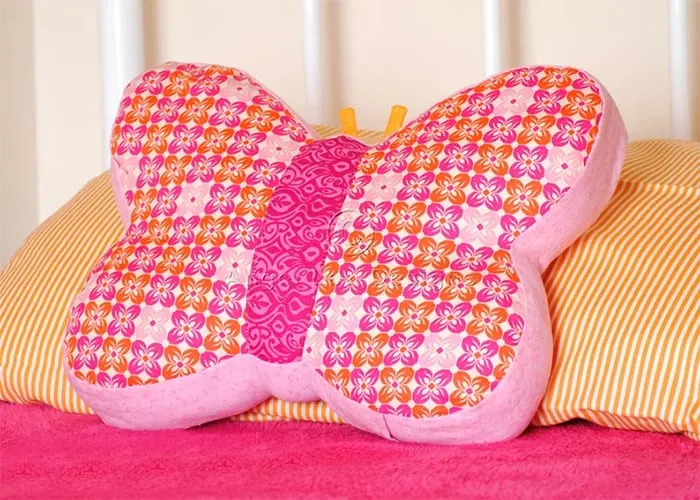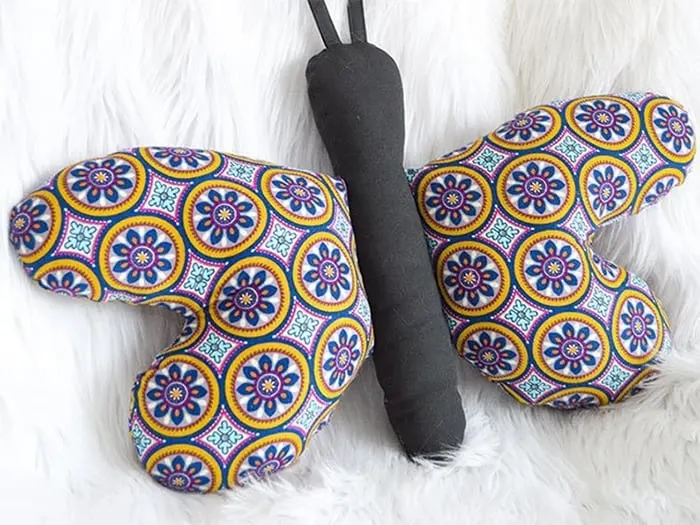 Butterfly pillow sewing pattern
Whether you're a seasoned sewer or a beginner, creating your own butterfly pillow can be a fun and relaxing project. Not only will you have a unique and personalized pillow, but you'll also have the satisfaction of knowing you made it yourself. Plus, a hand-sewn pillow can make a great gift for friends and family. So go ahead and give it a try – your handmade butterfly pillow is sure to be a conversation starter and a cherished addition to your home.
In conclusion, butterfly throw pillows are a delightful addition to any home decor. Whether you prefer bold and beautiful prints or delicate embroideries, there is a butterfly pillow design for every taste. Our top five picks for 2021 showcase the elegance and versatility of these pillows consider incorporating one of these stunning butterfly pillows to add a touch of nature and sophistication to your living space.
Want to remember this selection? Save these Top ten Butterfly Throw Pillow Designs on your favorite Pinterest board.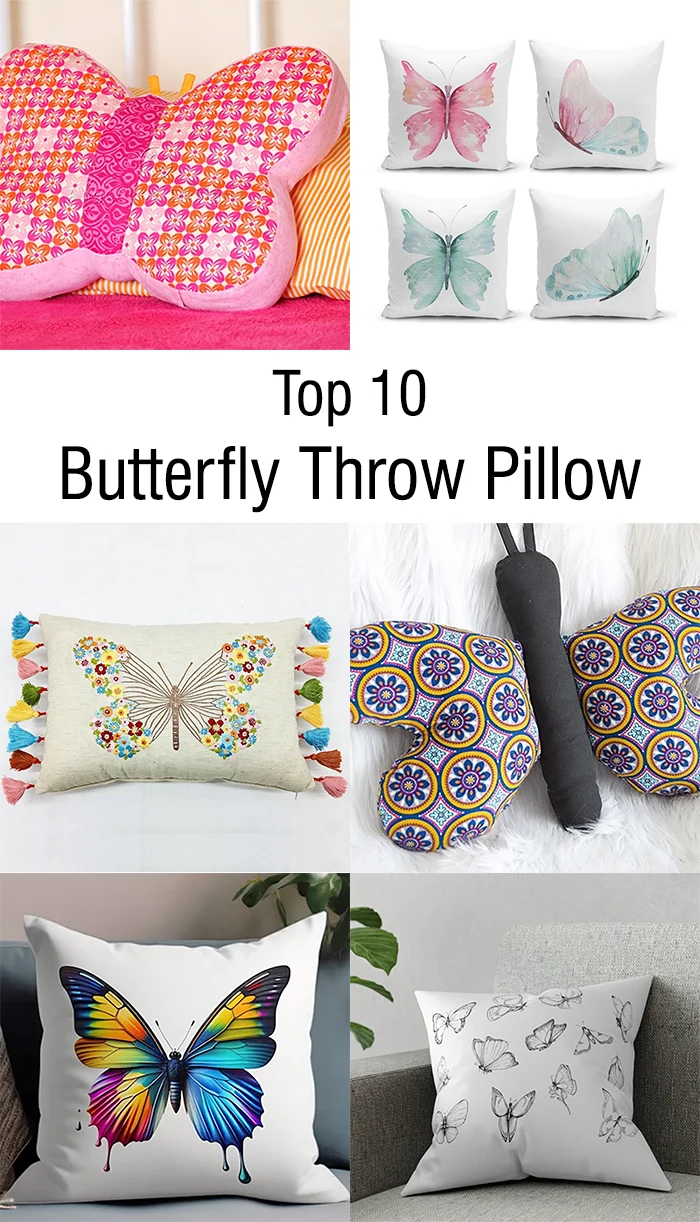 Amaryllis



Credit : Source Post