Are you tired of staring at the same outdated kitchen every day, but a full remodel just isn't in your budget? You're not alone. Many homeowners are looking for ways to update their kitchens without breaking the bank.
Luckily, there are plenty of budget-friendly options that can make a big impact. From easy DIY projects to small purchases, this article will show you how you can transform your kitchen without spending a fortune.
Scroll down to find my tips and the final result of my kitchen DIY update.
Get ready to be inspired by these high-impact changes that will leave your kitchen looking brand new!
[ This post probably contains affiliate links, our full disclosure policy is boring, but you can read it HERE ]
RELATED: 5 Must Have Appliances in Your Kitchen That Will Help You Sell Your Home Fast
RELATED: Our kitchen upgrade
Update your Cabinets
Unlock the full potential of your kitchen by revitalizing your cabinets! Transform them from outdated and drab to stunning and modern.
There are two ways to revamp kitchen cabinets with paint or adhesive. Both options have a wide range of colors and finishes, perfectly tailored to suit your needs and preferences.
If the doors of your cabinets are molded, prefer the paint. If you are a tenant, the removable adhesive is the ideal solution.
Either way, you'll have to take the doors apart (watch the video for my special tip) and clean them. It takes a little time to paint the cabinets but it will give a brand new vibe to your kitchen. It's the best way to upgrade your kitchen on a budget.
So go ahead, give your kitchen cabinets the update they deserve and elevate your living space.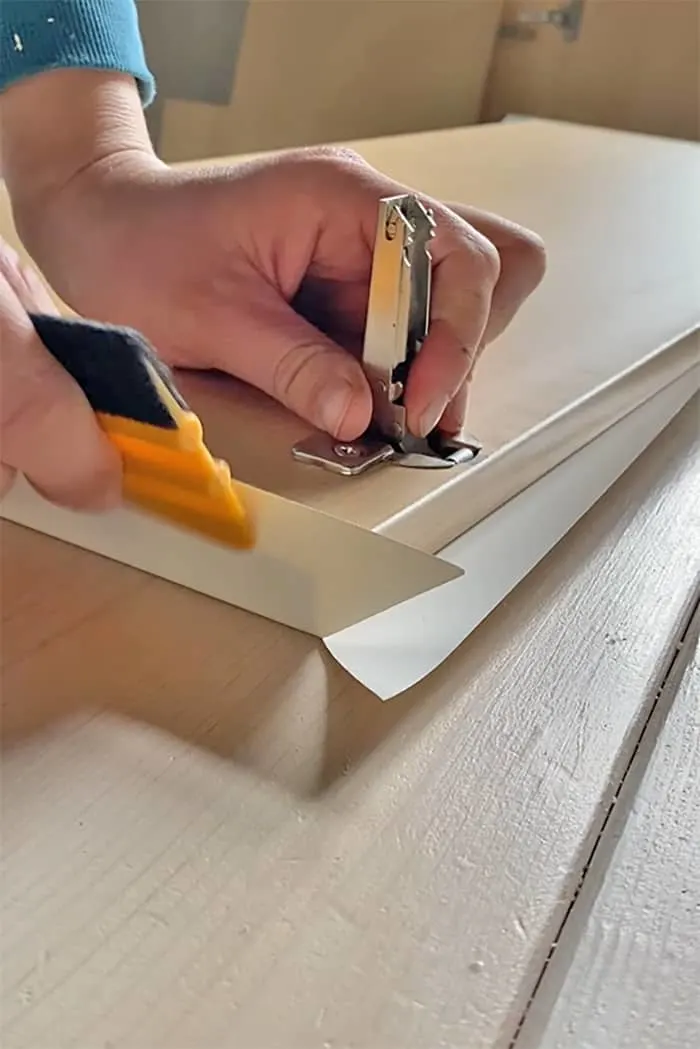 Switch the cabinet hardware
Another way to transform the look of your kitchen is to switch out the cabinet hardware. This simple DIY project can be completed in just a few hours and can make a big impact on the overall appearance of your kitchen.
The first step is to choose the new hardware you want to use. Whether you prefer classic knobs or more modern handles, there are countless options to choose from. Once you've made your selection, it's time to get to work.
Luckily, changing out cabinet hardware is a straightforward process that anyone can tackle. Start by removing the old hardware and then replace it with the new knobs and handles. You'll need a screwdriver and possibly a drill if you're installing new screws. Once the hardware is in place, stand back and admire your work!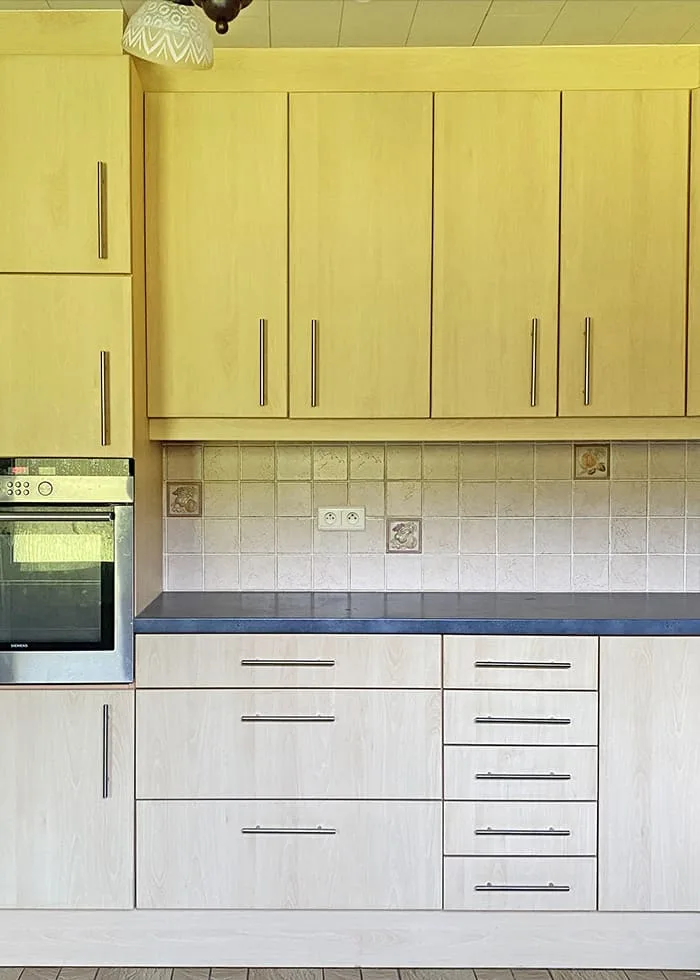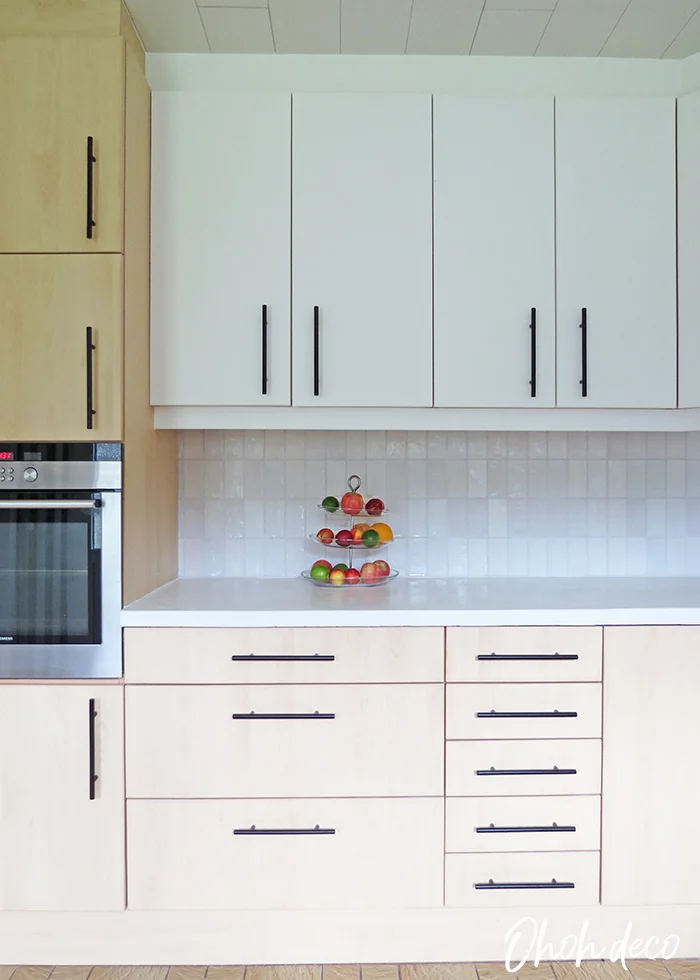 Replace countertops
Replacing your countertops is another affordable way to give your kitchen a brand new look. Not only will new countertops add a fresh and modern touch to your kitchen, but they can also increase the functionality of the space. There are a variety of different materials to choose from, such as quartz, laminate, and granite, so you can select the one that best suits your budget and style.
The installation process is relatively straightforward and can often be done on your own.
If your countertop is in good condition but you don't like the color, you can also paint it or apply adhesif.
Be careful to use an epoxy paint designed for kitchen countertops. It must be long lasting and, of course, food safe.
If you prefer the adhesive option, there are plenty of different styles and designs. Choose an adhesive that is thick enough to resist over time and clean your countertop perfectly before applying it.
The next option requires a bit more skill. You can also upgrade your countertop by applying a coat of polished concrete. You can buy a kit with all the materials. It takes a lot of time and precision, but if it's done well the result is really great.
By upgrading your countertops, you can completely transform your kitchen without having to spend a lot of money.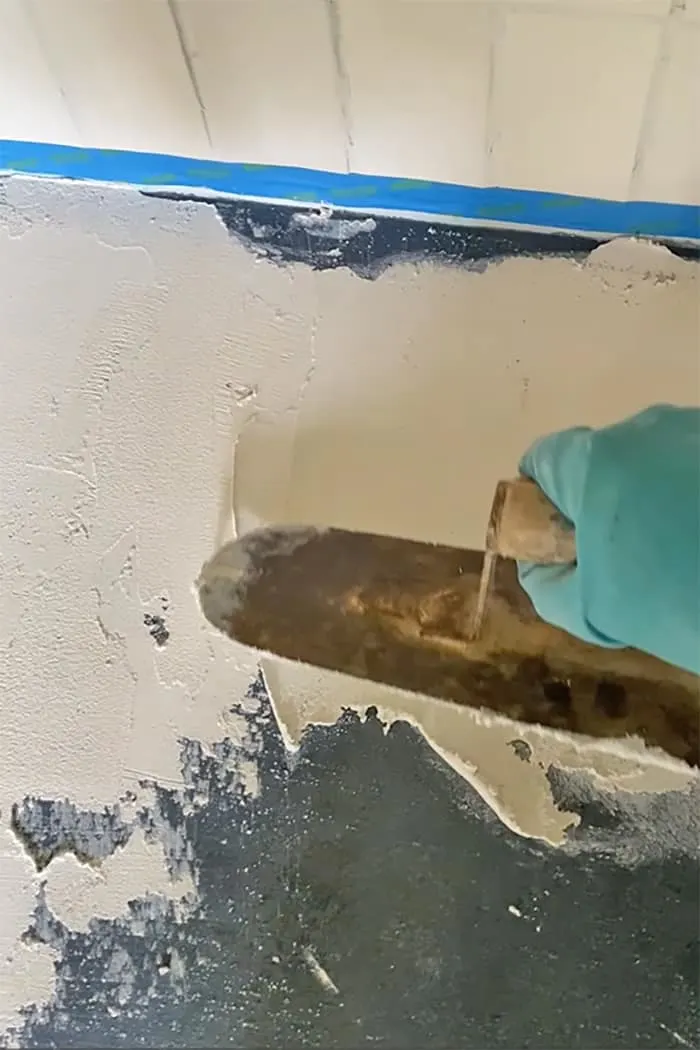 Add a new backsplash
And if you really want to take your kitchen to the next level, consider adding a new backsplash to complement your new countertops. Not only will a backsplash protect your walls from cooking spills and splatters, but it can also add a pop of color and personality to your kitchen. With a variety of materials and designs to choose from, you can create a backsplash that perfectly suits your style and budget.
One popular option is to use tiles, which have a classic and timeless look. They come in a range of colors and finishes, from glossy to matte, and can be arranged in various patterns, such as herringbone, or vertical stack.
Installing a new tile backsplash is a relatively simple process that can be done on your own, but it does require some planning and preparation.
Another simple option to upgrade your kitchen backsplash is to use adhesive tile. There are cheap and easy to place as you only need to peel and stick them over the outdated backsplash.
You can also choose to paint over your old backsplash. Sometimes a fresh coat of paint it´s all you need for a room refresh. Choose a paint that has been designed specifically for the use.
Adding a new backsplash is a simple and affordable way to update your kitchen and give it a fresh new look. And if you want to take your kitchen transformation one step further, upgrading your lighting is another great option.
RELATED: How to install mosaic tile backsplash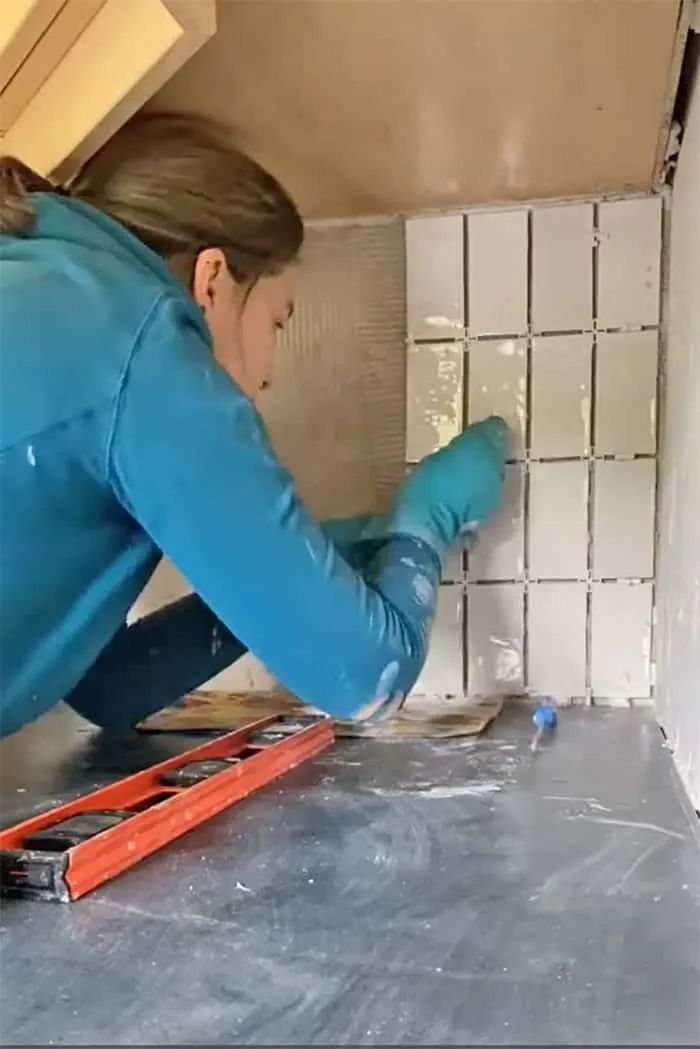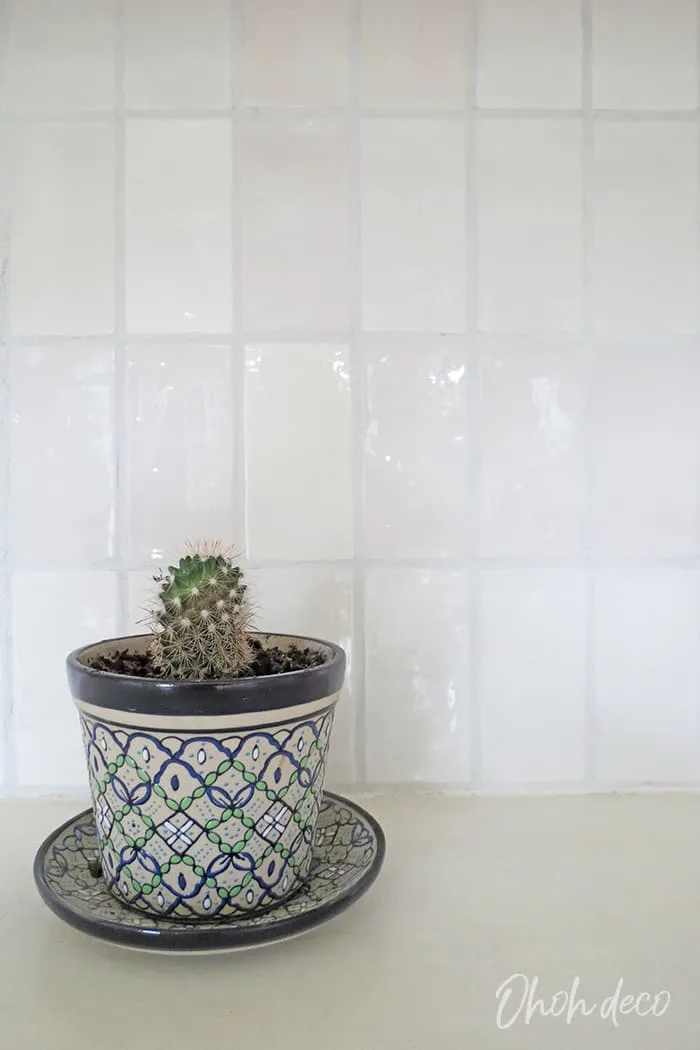 Upgrade your lighting
Upgrading the kitchen's lighting is an easy way to make a big impact on its overall look and feel. Swapping out outdated fixtures for new ones can brighten the space and make it feel more modern. And if you're looking to save money, consider switching to LED bulb.
But lighting isn't just about function; it can also be a decorative element in your kitchen. Hanging pendant lights above the sink, an island or under-cabinet lighting can add a stylish touch while also providing extra illumination for cooking and prep work.
RELATED: Tips for a great lighting decor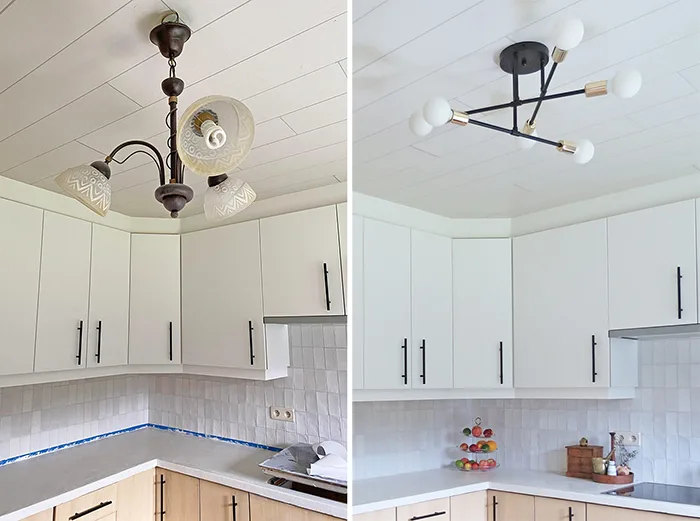 Paint the Walls
A simple and cost-effective way to give your kitchen a fresh look is by painting the walls. A new coat of paint can make the space look brighter, cleaner and more modern.
Depending on your personal style, you can go for a bold color, a soothing pastel hue or even a calm white . But before you go crazy with your roller, make sure to choose a paint that is suitable for kitchens, as it needs to withstand moisture, grease, and heat.
Wallpaper is also a great option to spice up your kitchen and give it your special touch with a funky pattern. As for the paint, be sure to use washable wallpaper that you can easily wipe.
RELATED: How to wallpaper – The easy way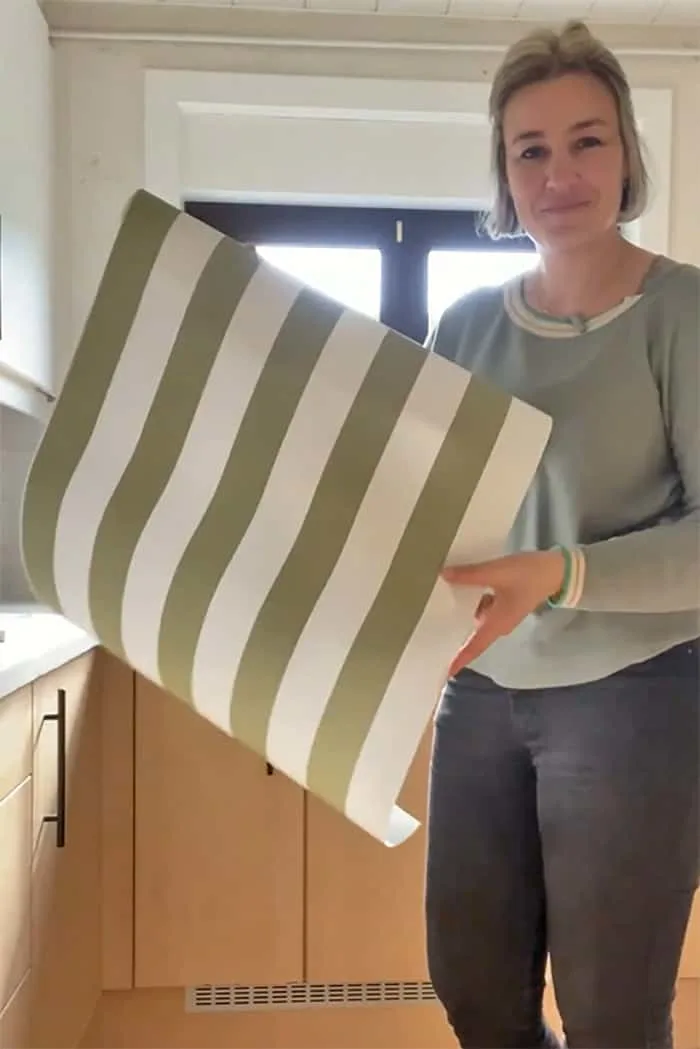 Replace sink and faucet
An old, stained sink and a faucet that leaks or squeaks can really drag down the appearance of your kitchen. Besides, if you're spending more time cooking and cleaning at home, it's worth investing in a sink and faucet that make your life easier and more enjoyable. With many modern options on the market, you're sure to find one that fits your style and budget.
Kitchen sinks are available in different colors and materials, and some are equipped with modern accessories that will make your daily life easier.
Changing a sink and a faucet is quite simple, for easy installation choose the new sink with the same dimensions as the old one.
Add Open Shelving
One way to add character to your kitchen without breaking the bank is by incorporating some open shelving into the design. Not only does this create an opportunity for displaying decorative dishware, but it also makes your kitchen feel more open and spacious. With a little bit of DIY, you can easily install open shelving yourself.
There are many styles of open shelving to choose from, including rustic wood, metal brackets, and even floating shelves. Consider the style of your kitchen and choose a shelving option that complements it. Once installed, you can arrange your favorite dinnerware and glassware on the shelves, adding a personal touch to your kitchen design.
RELATED: DIY Display Shelf
RELATED: DIY Floating Shelves Can Transform A Room
Get Creative with Fabric and Accessories
Once you've added open shelving to your kitchen, you have a perfect opportunity to showcase your personal style with creative fabric and accessories. Here are a few ideas to get started:
Add a pop of color with a table runner or placemats. Choose a bold print or vibrant hue that complements your kitchen's color scheme.
Hang a patterned tea towel or two from your open shelves. Not only will they add texture and interest, but they're also handy for drying dishes and wiping up spills.
Get yourself a new set of pot holders, and why not a new apron too?
Consider adding a new rug or mat in front of your sink or stove. Not only will it protect your floors, but it can also add a cozy touch to your kitchen.
By incorporating these simple fabric and accessory updates, you can transform your kitchen with a little creativity and a few thoughtful touches, your kitchen can become a space that's functional, beautiful, and uniquely yours.
RELATED: Free pot holder pattern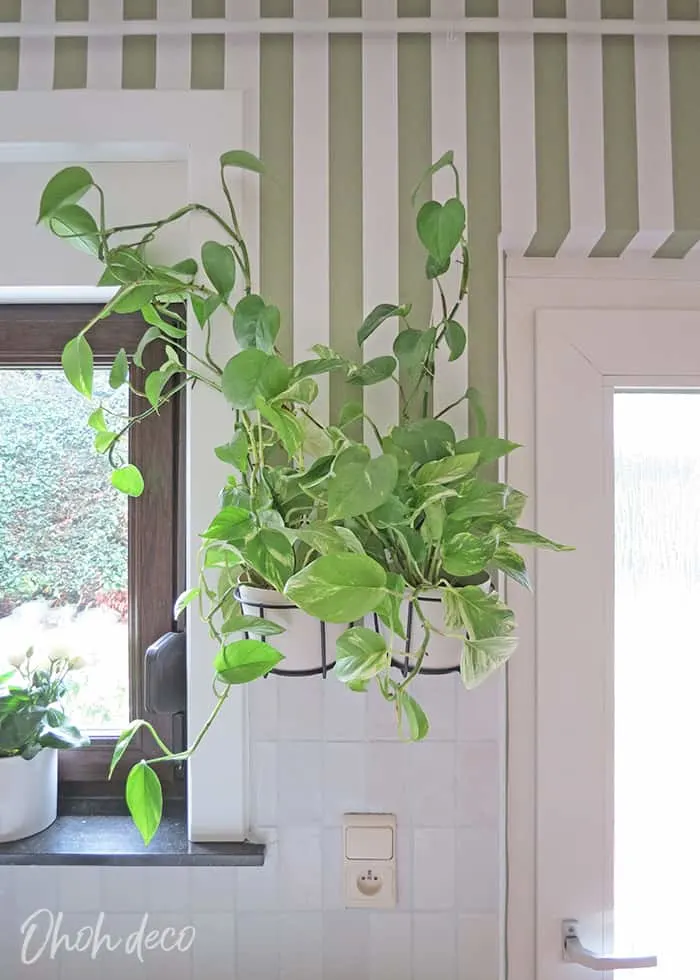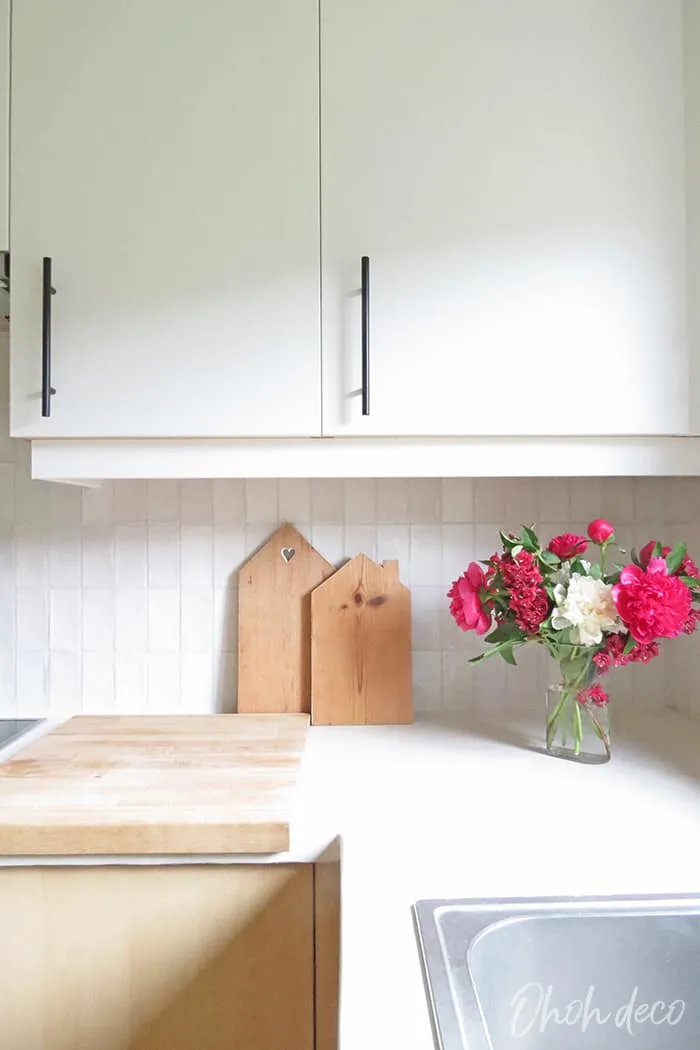 As an example, my Kitchen Makeover
Hope all these ideas inspire you. Below, I will share with you some details of my kitchen update to give you an idea of time and budget.
I first analyzed the strengths and weaknesses of my kitchen:
Strengths: Functional, very well distributed, lots of storage, numerous cabinets and in good condition.
Weak points: Dark, decoration outdated, beige backsplash with fruits and vegetables, no free wall, Old and ugly flooring.
Here is what I worked on to modernize my kitchen:
I cover the top cabinets with white adhesive for more brightness. I also changed the door handles to these modern ones.
I get rid of the ugly beige tiles of the backsplash and replace them with beautiful white bejmat tiles.
I covered the countertop with white concrete and changed the light fixture.
And for the final touch, I hanged a stripped wallpaper to add a splash of color and add a few decorative items.
The floor will be done later. Further work is still needed to be done in the house before. I'm still not a fan of the PVC slatted ceiling, but it fits in relatively well and goes almost unnoticed in the new decor.
For all the work done in the kitchen so far, I spent 1116 euros (1202 US Dollars) and I did everything myself in 2 weeks.
I hope my kitchen makeover will help you to give you an idea of cost and work time.
Watch the video of my kitchen update: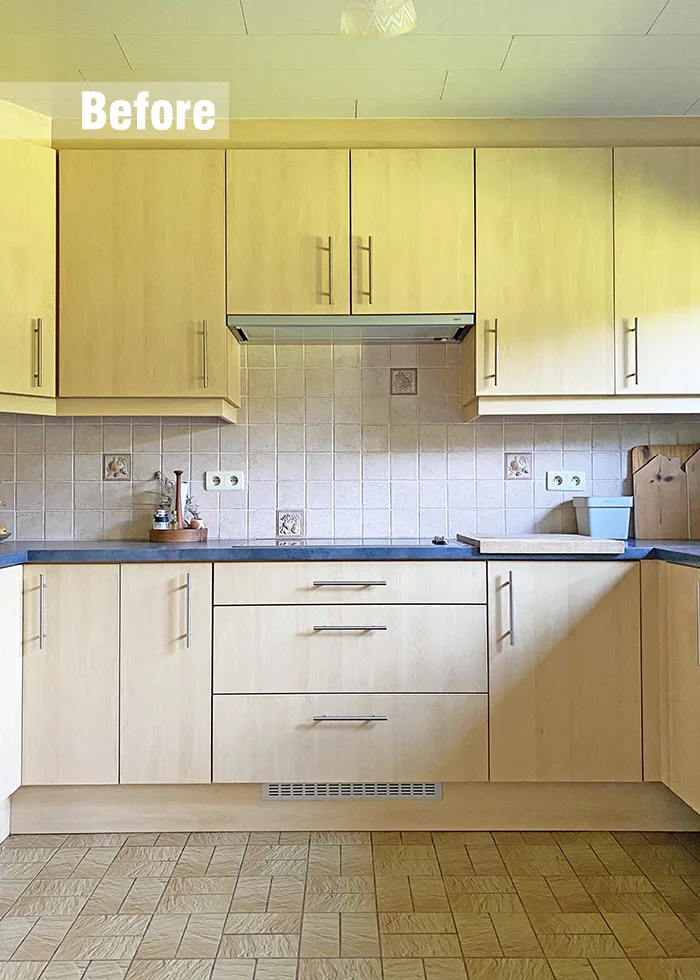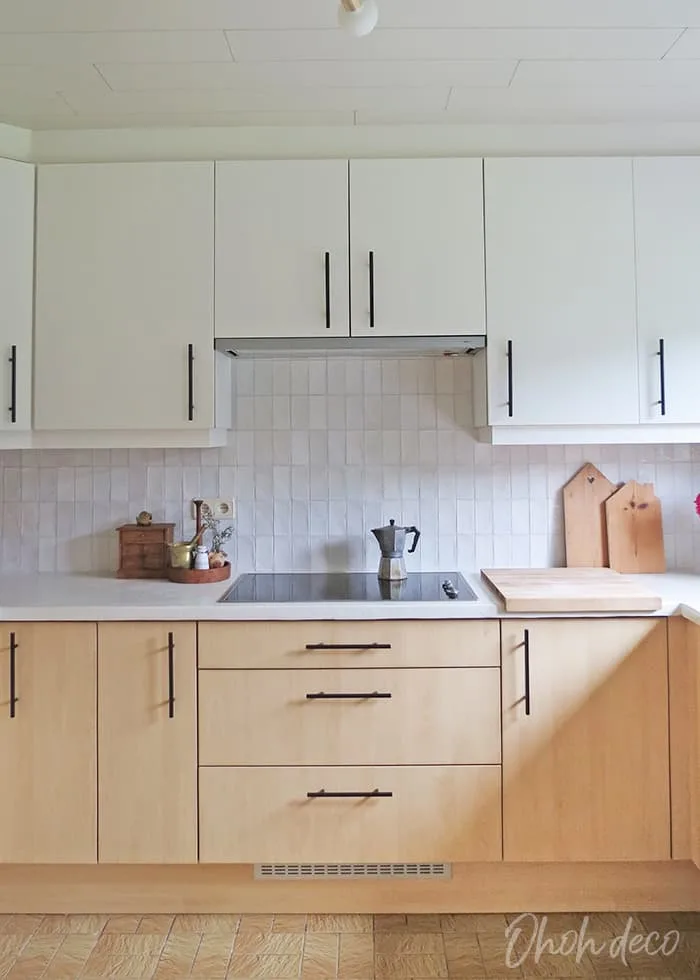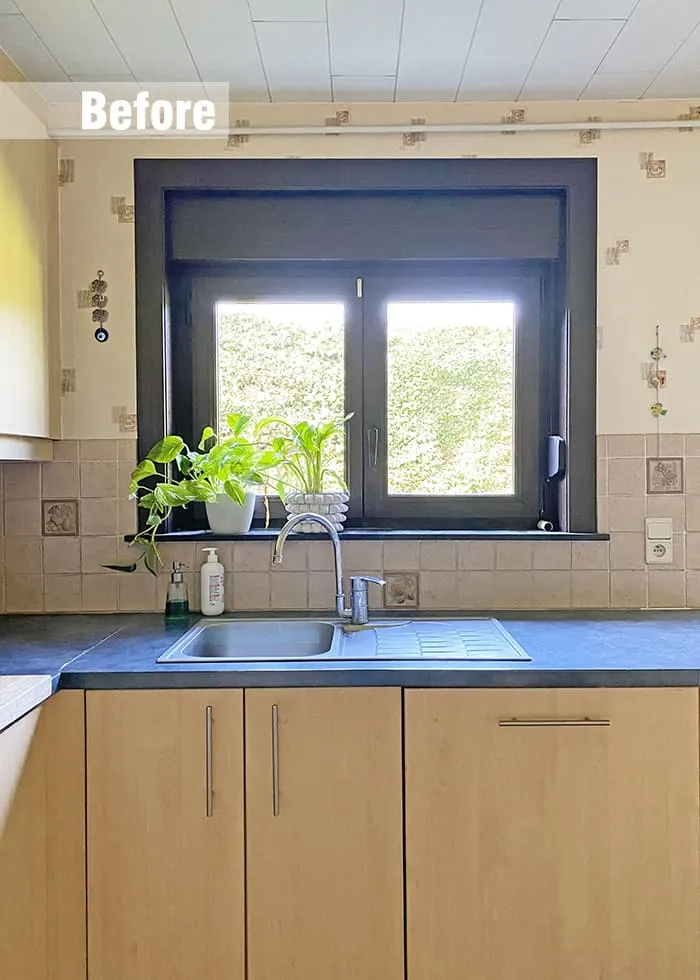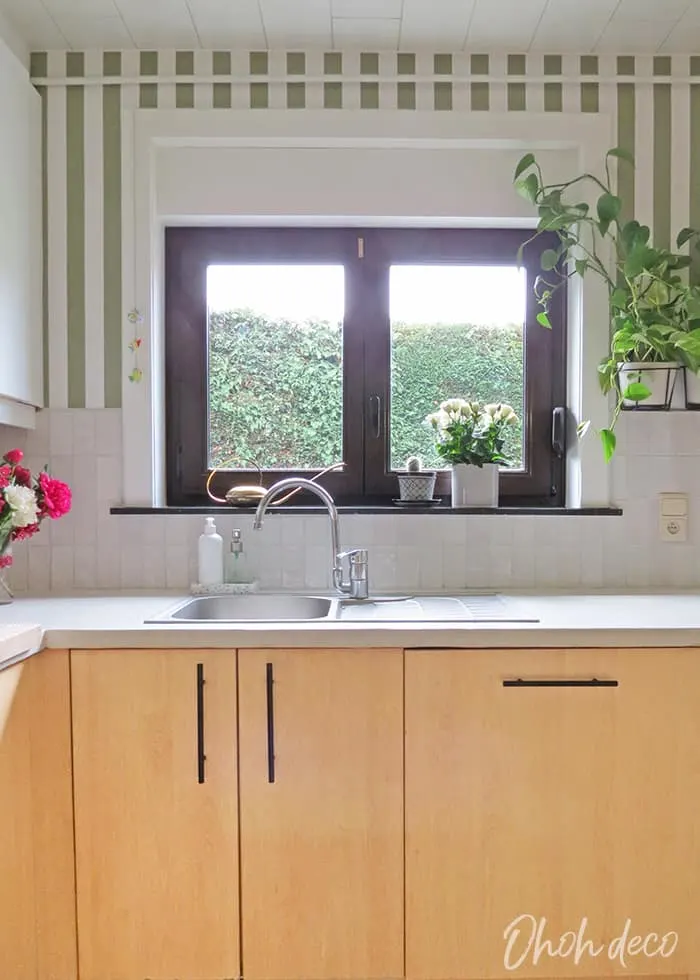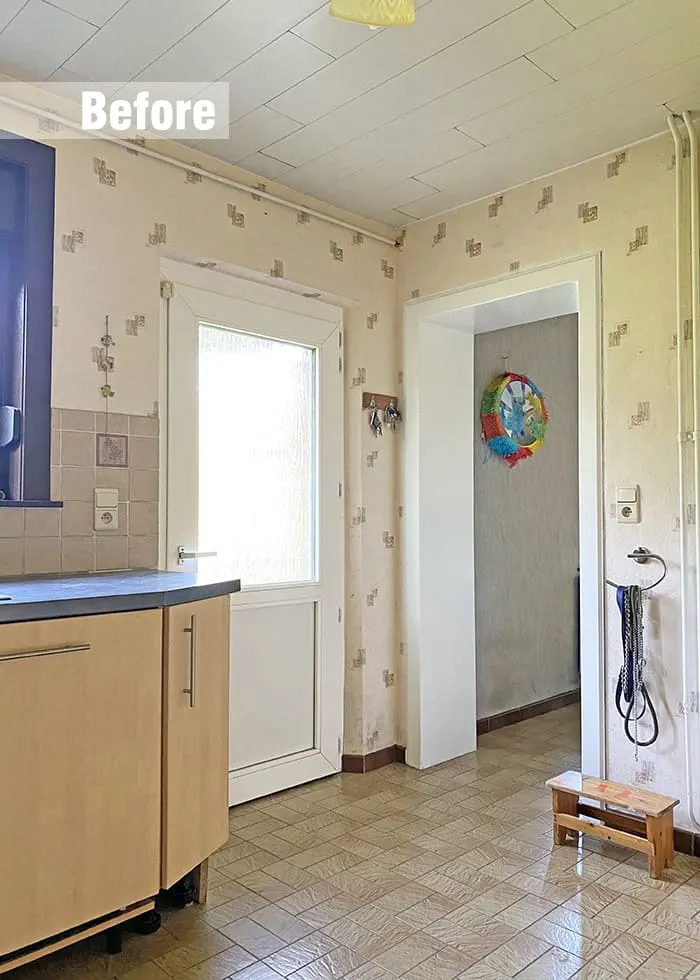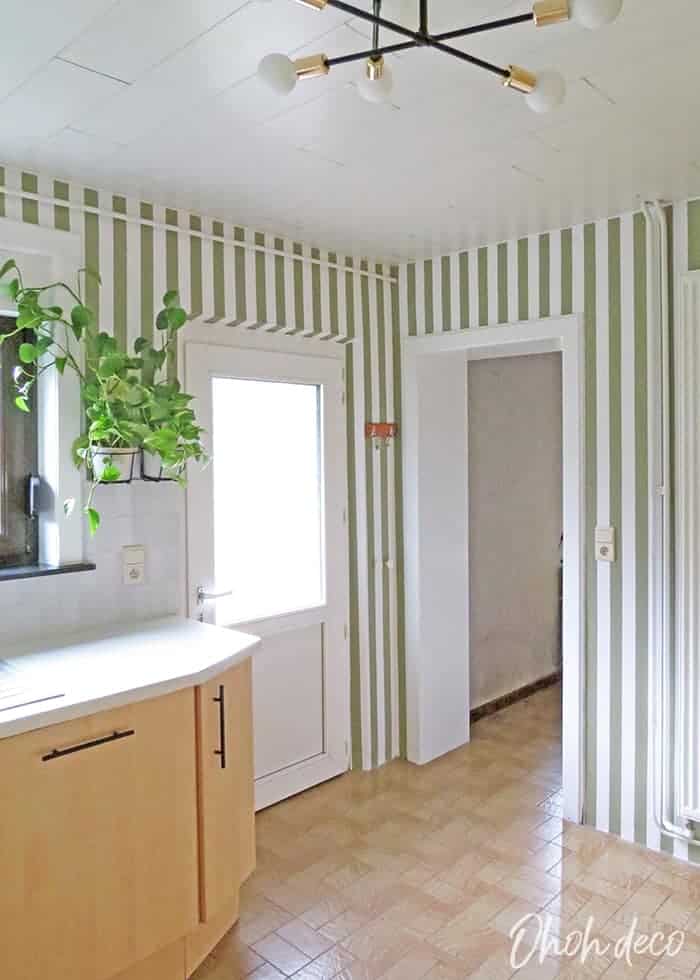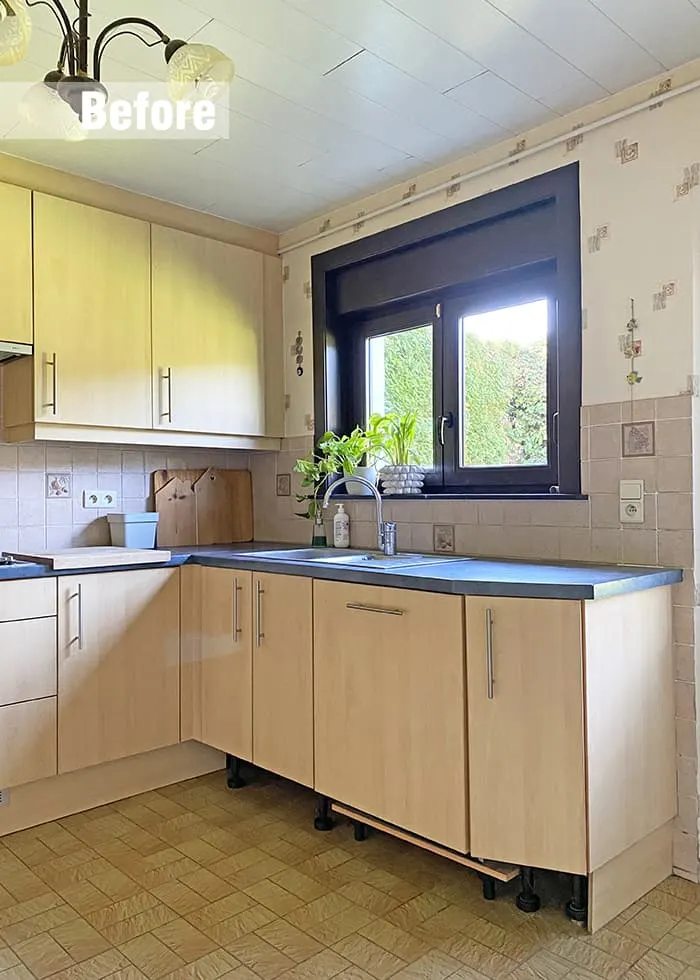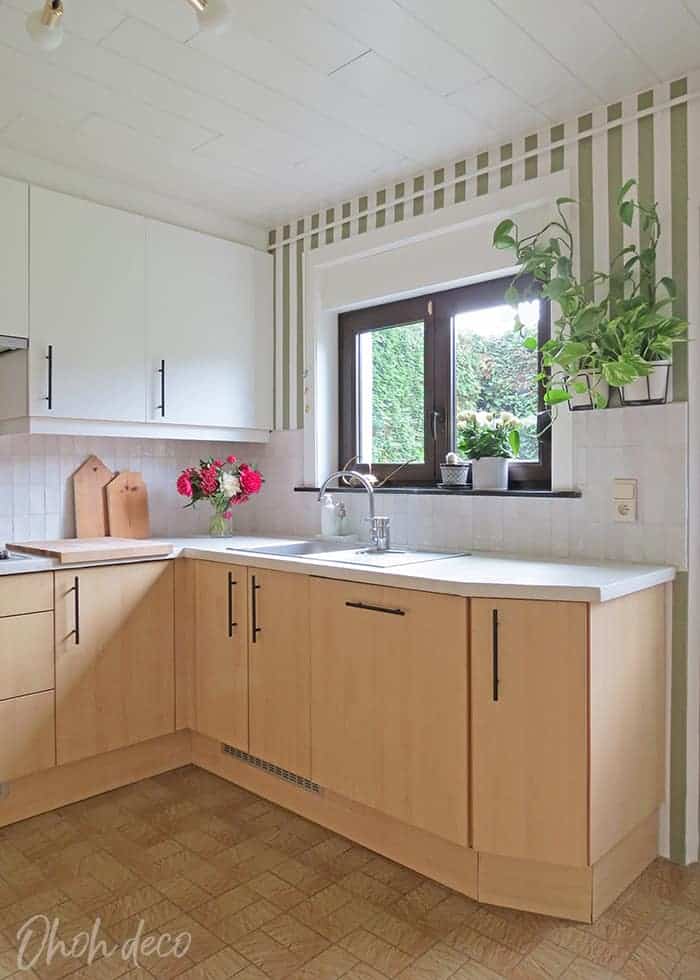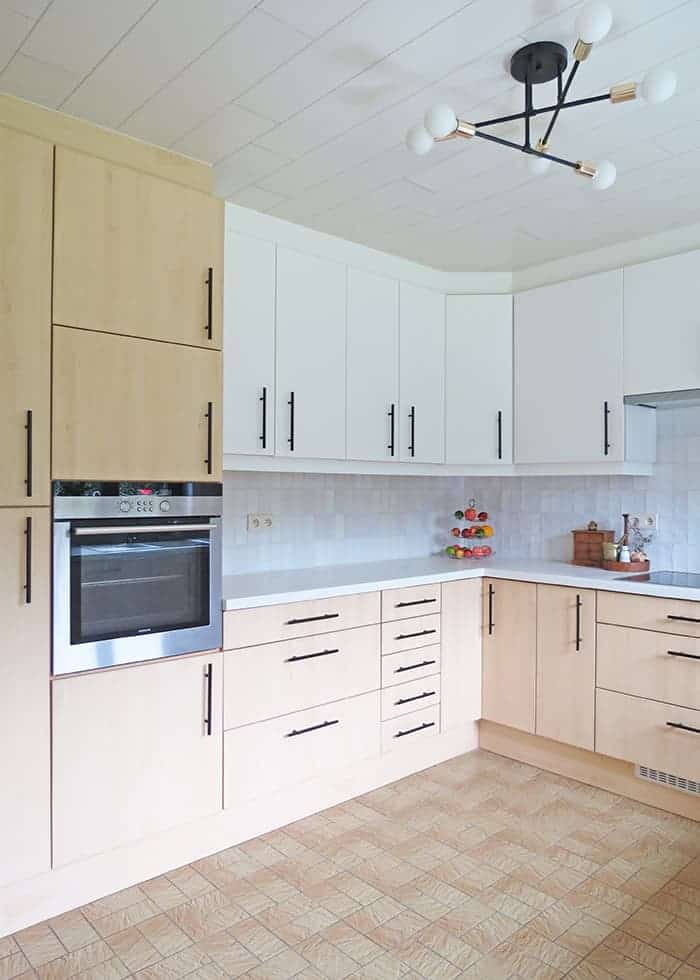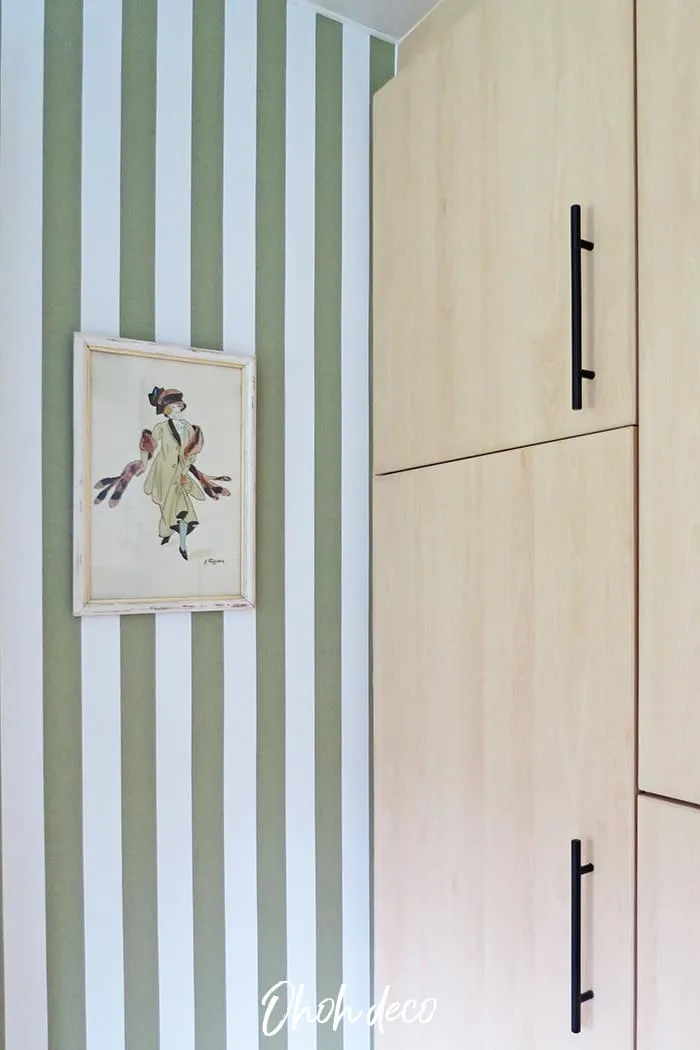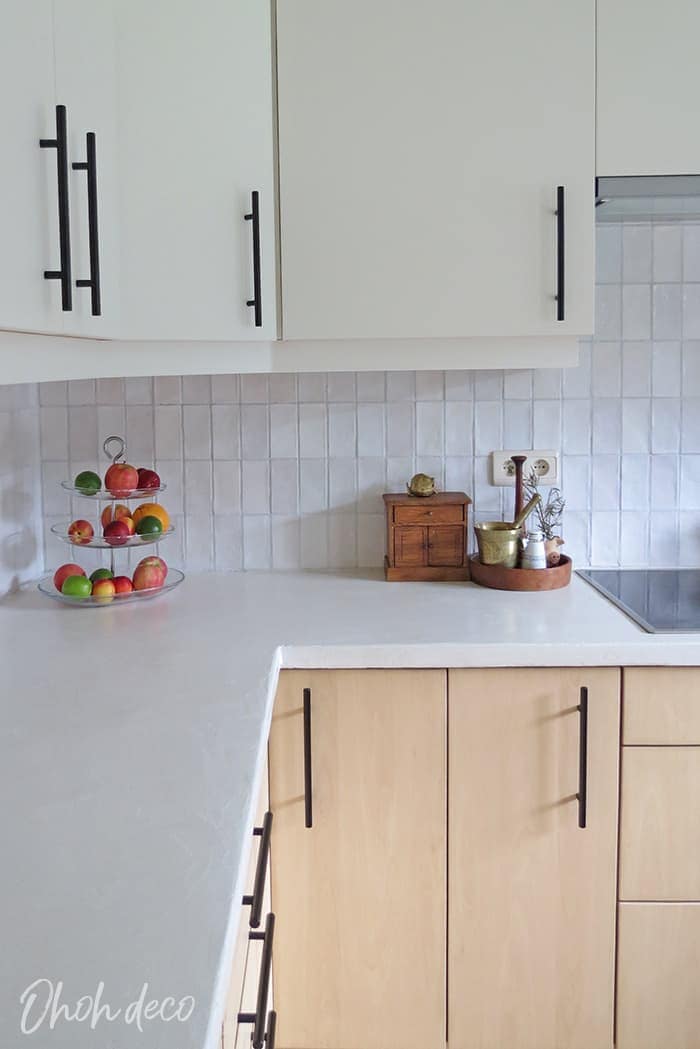 In conclusion, a kitchen remodel doesn't have to cost a fortune. By focusing on small yet impactful changes you can transform your outdated kitchen into a fresh and welcoming space.
Remember to start by assessing your kitchen, setting a budget, and prioritizing your wish list. With a little creativity and willingness to try something new, you can achieve your dream kitchen without breaking the bank. As the saying goes, "If you can dream it, you can achieve it." So why not start today?
Want to remember it? Save these ideas to update your kitchen without remodeling on your favorite Pinterest Board.

Amaryllis



Credit : Source Post